Screening For The Best Growth Stocks
The main idea is focusing on consistent growth leaders. If the company is outgrowing the competition in multiple timeframes, this is indicating that the business has superior fundamental qualities, such as more innovative technologies, a visionary management team, or differentiated brand power.
These kinds of companies are not easy to find: From a starting universe of nearly 6,500 stocks, we end up with less than 600 names when filtering for size and growth rates over different timeframes.
Among those stocks, we select the 25 names with the highest rankings based on the Stocks on Fire algorithm. This is a ranking algorithm based on two main factors: price momentum and fundamental momentum.
The price momentum factor measures price performance and the fundamental momentum component measures the increase in sales and earnings estimates for the company. We want to focus on companies that are performing better than expected from a fundamental perspective, and we want the stock price to be reflecting this outperformance.
The backtest below picks the 25 stocks selected by the quantitative screen, and it builds a portfolio based on the information available at the time. This means no survivorship bias and no look-ahead bias. The portfolio is rebalanced every four weeks and trading expenses are assumed to be 0.2% per transaction. The benchmark is the iShares Russell 100 Growth ETF (IWF).
Since January of 1999 the strategy has gained 1711% vs. 261% for the benchmark. This means that $100,000 invested in the quantitative strategy in 1999 would currently be worth $1.8 million, and the same amount of capital allocated to the Shares Russell 1000 Growth ETF would have a much smaller value of $361,00. Alpha amounts to 9.27% per year.
(Click on image to enlarge)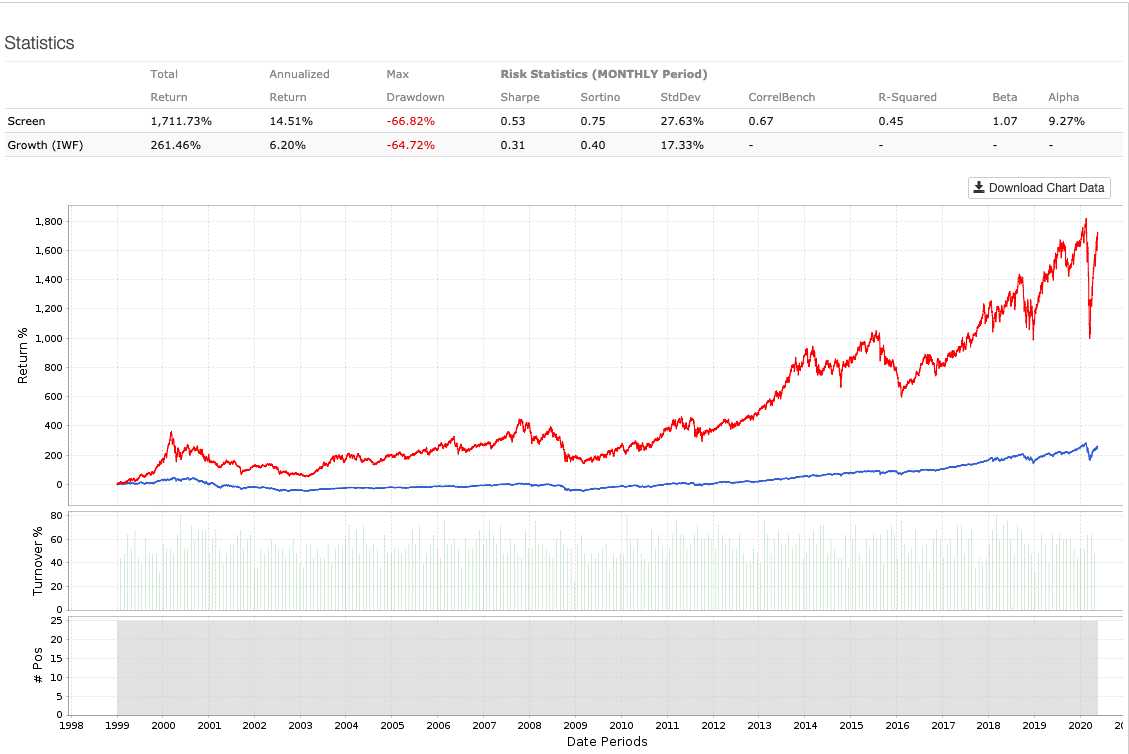 Data from S&P Global via Portfolio123
Providing more details, the table below shows return and risk statistics for the quantitative screener and the benchmark over different timeframes. It's important to note that the screener outperforms since inception, in the past year, and in the past three years. However, the screener also lags the benchmark considerably in the past five years.
Disclosure: I am/we are long DOCU.
Disclaimer: I wrote this article myself, and it expresses my own opinions. I am not receiving compensation for it. I have no business relationship with any ...
more