Richest Americans Add $195 Billion To Net Worth During Biden's First 100 Days
As the Biden Administration and Congressional Democrats continue to spend money like Pretty Woman with Richard Gere's credit card, the top beneficiaries of this 'froth-inducing' stimulus have been America's wealthiest 100 individuals - who've tacked on a combined $195 billion to their fortunes during President Biden's first 100 days in office, according to Bloomberg.
The most recent gains have been fueled by the continued rise of the stock market since Biden was sworn in Jan. 20, along with the vaccination program's fast rollout and a $1.9 trillion government stimulus package. The S&P 500 and Dow Jones indexes have both climbed more than 10% during that time.

Attempts such as Biden's to refloat the economy can boost incomes and wealth at the very top, said Mike Savage, a sociology professor at the London School of Economics.

"We've seen that paradox since the 2008 financial crash with quantitative easing, which has mostly benefited people with assets, inflating their value significantly,'' Savage said. -Bloomberg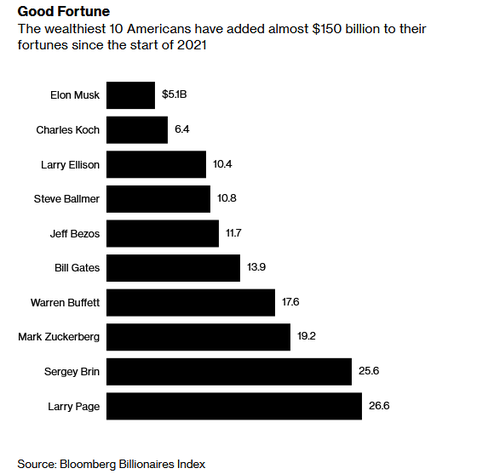 What's more, the richest 100 Americans saw their wealth grow by $267 billion before Biden's inauguration if one counts gains since the 2020 election, for a total gain of $461 billion since Nov. 4. For comparison's sake, between Donald Trump's 2017 inauguration and last fall's election, the same group of billionaires grew around $860 billion richer.
Biden's coming for it though.
In addition to raising capital gains taxes and taxing inherited wealth, the Big Guy's proposals will 'recover' trillions of dollars in wealth into government coffers after the wealthiest pay their 'fair share.'
"Sometimes I have arguments with my friends in the Democratic Party," said Biden during his first address to Congress on Wednesday. "I think you should be able to become a billionaire or a millionaire. But pay your fair share."
Disclosure: Copyright ©2009-2021 ZeroHedge.com/ABC Media, LTD; All Rights Reserved. Zero Hedge is intended for Mature Audiences. Familiarize yourself with our legal and use policies ...
more