Return On Invested Capital: The Best And Worst
TM editors' note: This article discusses a penny stock and/or microcap. Such stocks are easily manipulated; do your own careful due diligence.
Return on invested capital (ROIC) is not only the most intuitive measure of corporate performance, but it is also the best. It measures how much profit a company generates for every dollar invested in the company. It is the true measure of a company's cash on cash returns.
As we demonstrate in "ROIC: The Paradigm For Linking Corporate Performance To Valuation", ROIC is the primary driver of stock prices. Growth and duration of profit growth also help drive stock prices, but ROIC is, by far, the most important driver because the market cares most about assigning value to the companies that produce the most cash per capital invested in them. If the opposite were true, the market would quickly go bankrupt. If you believe in any sort of efficiency in the stock market, ROIC is preeminent.
The formula (see Figure 1) for calculating ROIC is easy. The hard part is finding all the data, especially from the footnotes and MD&A, required to get NOPAT and Invested Capital right.
When we calculate ROIC, we make numerous adjustments to close accounting loopholes and ensure apples-to-apples comparability across thousands of companies.
Figure 1: How To Calculate ROIC
NOPAT/Invested Capital
Or
NOPAT/Revenue * Revenue/Invested Capital
Sources: New Constructs, LLC and company filings
Figure 2 shows the companies with the highest and lowest ROIC out of 3000+ companies under coverage.
Figure 2: Companies With Best/Worst ROIC Over the Last 12 Months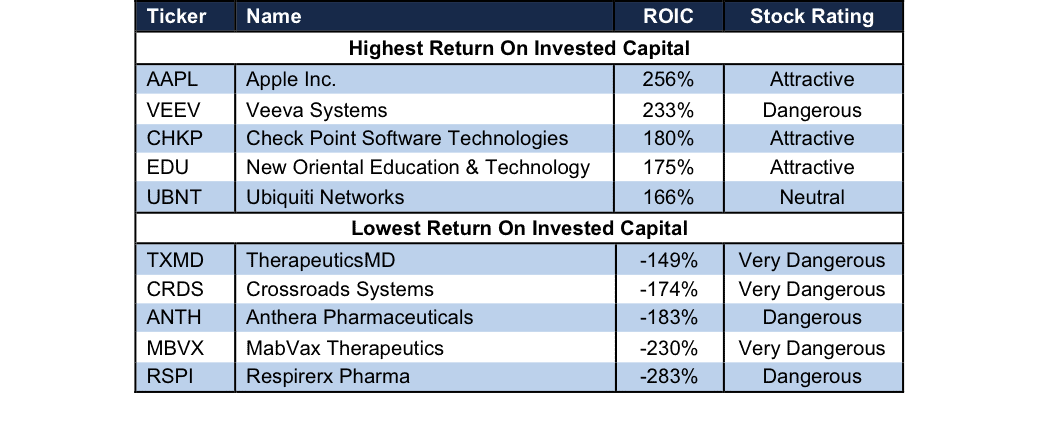 Sources: New Constructs, LLC and company filings.
Apple's 254% ROIC is the highest of all companies under coverage. We've previously covered reasons we feel such a high ROIC is not sustainable. In fact, since 2011, Apple's ROIC has fallen from 339%. See Apple's ROIC each year dating back to 1998 here.
Disclosure: New Construct Staff receive no compensation to write about any specific stock, sector or theme.