Return On Gross Invested Capital (ROGIC): Explanation & Examples
Return on invested capital (ROIC) is not only the most intuitive measure of corporate performance, but it is also the best. It measures how much profit a company generates for every dollar invested in the company.
Return on gross invested capital (ROGIC) (seen in Figure 1) provides additional insights into the profitability of highly-capital intensive businesses. Depreciation policies may differ from firm to firm and can have a significant impact on both NOPAT and invested capital. ROGIC helps to minimize the impact of different depreciation policies and asset write-down policies.
Properly calculating ROIC, the primary driver of stock prices, is key to measuring a firm's ability to generate returns on the capital invested in its business. Our Robo-Analyst technology allows us to perform the diligence needed to calculate an accurate ROIC and comparable metrics, such as ROGIC and GAAP-based ROIC.
Figure 1: How To Calculate Return on Gross Invested Capital (ROGIC)
Gross NOPAT / Average Gross Invested Capital where
Gross NOPAT = (Net Operating Profit Before Tax + Depreciation and Amortization) * (1- Income Tax Rate)
Gross Invested Capital = Net Working Capital + Adjusted Fixed Assets + Accumulated Depreciation and Amortization
Sources: New Constructs, LLC
We make it easy for the average investor to leverage the benefits of a high quality ROIC model and see a clear picture of a firm's true profitability. Figure 2 shows the Large Cap Energy companies with the highest and lowest ROGICs.
Figure 2: Large Cap Energy Companies With Highest/Lowest ROGIC Over Last Twelve Months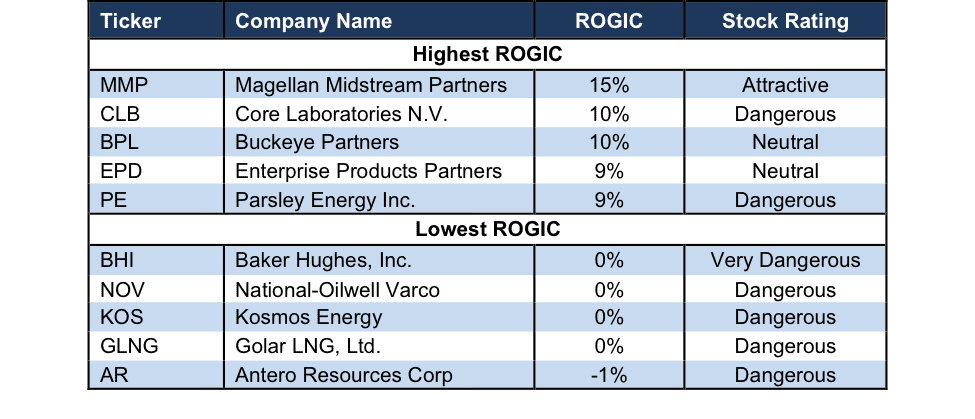 Sources: New Constructs, LLC and company filings.
Magellan Midstream Partners' (MMP) 15% ROGIC is the highest of all Large Cap Energy companies under coverage. Magellan has earned a positive ROGIC since 2012. See Magellan's ROGIC each year dating back to 2012 here.
Core Laboratories N.V. (CLB), Buckeye Partners (BPL), Enterprise Products Partners (EPD), and Parsley Energy (PE) earn the second through fifth highest ROGIC. However, ROGIC alone doesn't mean a company earns an Attractive-or-better rating. Core Laboratories and Parsley Energy both earn a Dangerous rating. See CLB's ROGIC each year dating back to 2010 here.
Disclosure: David Trainer, Kyle Guske II, and Sam McBride receive no compensation to write about any specific stock, sector, style, or theme.