Retail Traders Have Lost That Stimmy Feelin'
Last Friday, when previewing the month and quarter-end rebalance, Nomura's Charlie McElligott went on a brief tangent, showing the collapse in marketwide call volumes as the retail frenzy has decidedly cooled off in recent weeks...
(Click on image to enlarge)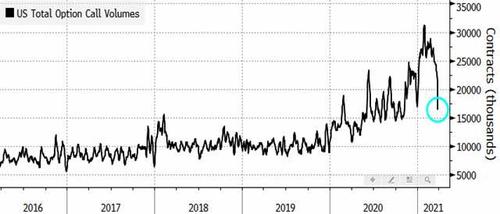 ... which McElligott attributed to three factors:
The weight of not just the overall "stalling-out" in the broad Equities tape again — but particularly, many of these most popular speculative names meaningfully lower over the past few months and bleeding PNL, particularly in YOLO Retail trading accounts
Retail selling ahead of tax bills coming-due, particularly with an anticipated hike in the capital gains tax from the Biden administration looking like an inevitability
And perhaps the most salient point with a "totally-sane" macro rationale, being that as JPM found last week, the latest round of "stimmy checks" are being re-routed away from speculative assets (which were previously obsessed over during the "Work From Home" screen-time era), but now instead are transitioning back into the real world consumer economy, as we re-open and get back to work in the post-Vaccine paradigm shift
Whatever the reason, but the sudden drop off in retail participation - which as we discussed last week has also manifested itself in more QQQ put buying as even "unsophisticated" investors are now hedging their downside - has become a significant source of market tensions across other banks as well, with Deutsche Bank's flow strategist Parag Thatte also noting that after call volumes had been rising sharply for over a year, especially since November, "they soared further mid-January, but then fell sharply right after the steep climb and subsequent sell-off in heavily shorted stocks in late January. Volumes then rose briefly but have been declining again since the middle of February."
(Click on image to enlarge)
Disclaimer: Copyright ©2009-2021 ZeroHedge.com/ABC Media, LTD; All Rights Reserved. Zero Hedge is intended for Mature Audiences. Familiarize yourself with our legal and use policies every time ...
more