Republic Of The Savior
For an acknowledgement that El Salvador is now a poster boy for Bitcoin, see Balaji Srinivasan's tweet below,
My general feeling is that every theoretical debate we've had in crypto over the last 10 years will get put to the test immediately over the next months and years in El Salvador.

It reminds me of the trial-by-fire that was the 2016 Indian demonetization. https://t.co/of9sfpBQfY

— balajis.com (@balajis) June 9, 2021
Or Joe Wiesenthal's,
I'm excited about the El Salvador news. In a year we'll be able to see if it was an important development economically or not. Was it used or not. No more need for theoretics.

— Joe Weisenthal (@TheStalwart) June 9, 2021
The challenge for Bitcoin enthusiasts is that El Salvador is, well, El Salvador. Salvadoran immigrants have struggled in the U.S., as Jason DeParle noted in a dispiriting New York Times article ("Struggling to Rise in Suburbs Where Failing Means Fitting In"). One might hope El Salvador's embrace of Bitcoin will attract talented immigrants to El Salvador, but that hope should be tempered by the knowledge that El Salvador has the highest homicide rate in the world.
The Bitcoin Bounce's Impact On Our Stocks
As we've mentioned before (most recently in Wendy's: Where's The Beef?), the recent slide in Bitcoin facilitated the resurgence of meme stocks like AMC Entertainment Holdings (AMC) and The Wendy's Company (WEN). The bounce in Bitcoin on Wednesday had the opposite effect, with both of those stocks dropping by double digits. For our system's top names, the spike in Bitcoin-related stocks has offset the drop in meme stocks so far. For example, these were our top ten names on Tuesday.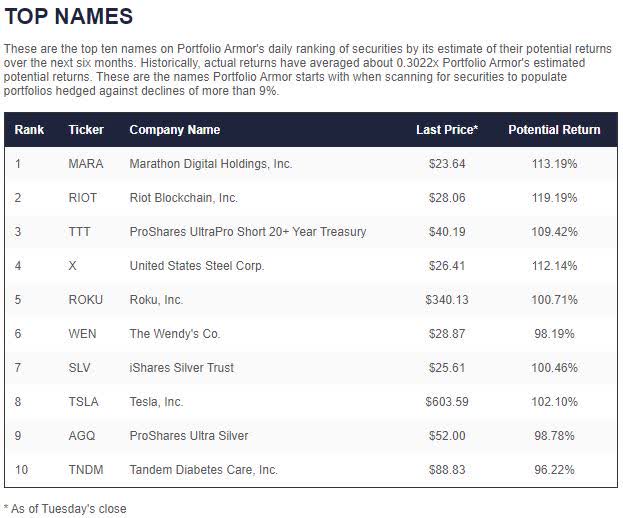 Screen capture via Portfolio Armor on 6/8/2021.
Contra our prediction that Wendy's had more room to run, it dropped 12.68% on Wednesday. But the two Bitcoin miners in our top ten Tuesday, Riot Blockchain (RIOT) and Marathon Digital Holdings (MARA) were up double digits.