Renters Are Still In A Recession
One of the themes we have discussed in the past 10 months is that forbearance isn't an issue. If you want to focus on housing issues, look at renters. They are the ones in trouble. This matters for policy makers because it's best they focus on the real issues. Imagine if an investor thought homeowners were in trouble. They would be flabbergasted by the massive increase in spending on home improvements.
Homeowners are less likely to be unemployed, and even in a time of economic distress, the rate of unemployment for homeowners doesn't increase as dramatically as for renters. In fact, the unemployment rate for renters since 2000 has averaged 4.4 pp more than for homeowners. pic.twitter.com/pJkORNH2bp

— Odeta Kushi (@odetakushi) January 26, 2021
As you can see from the chart above, historically renters always have a higher unemployment rate than owners, and the difference rises during recessions. It's great to be a home owner because your mortgage payment stays the same while your income increases. The home will be the most expensive in the first year. This is why there are so few foreclosures. The housing bubble in the early 2000s ruined this benefit because there were teaser loans where rates were lower in the beginning. When rates spiked, people suddenly couldn't afford their mortgage.
As you can see from the chart below, the economy is basically back to normal for homeowners. Their unemployment rate is about 7%. No wonder housing demand is so strong. Another way of looking at this is to say the increase in demand obviously came from people with jobs, so they lowered the rate. On the other hand, renters are in dire trouble as their unemployment rate is near 13%. That's borderline depressionary results. If it wasn't for boosted unemployment benefits, they would be in deep trouble. Obviously, eviction bans also lessened the blow.
(Click on image to enlarge)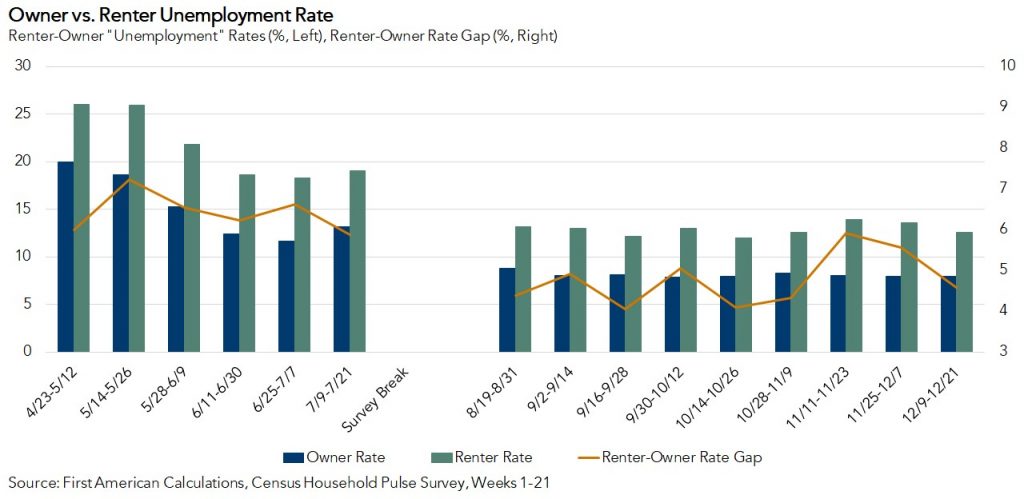 The good news is renters have the most room to improve when the economy reopens this spring. The unemployment gap is about the same as August. 7.1% of America has been vaccinated which has caused hospitalizations to plummet from above 130,000 to 110,000 in a couple weeks.
Disclaimer: The content on this site is for general informational and entertainment purposes only and should not be construed as financial advice. You agree that any decision you make will be ...
more