E

Renault: Steady Sailing Though Troubled Waters
On February 14, 2019, Renault presented its Q4 2018 and full year results. After the second half of the year, full of dramatic twists and turns, the conference call was highly anticipated by analysts and French retail investors alike. The last 180 days for the French manufacturer were eventful indeed. In November Carlos Ghosn, legendary Renault CEO and creator of the triumvirate of Renault, Nissan and Mitsubishi, was arrested over charges of financial misconduct. This event has shaken confidence of the market in the sustainability of the Alliance (for readers who are not fully familiar with sequence of events following arrest of Carlos Ghosn and for those who would like to refresh their memory, here is a good analysis of the crisis along with short recap of events following the arrest of Ghosn)
In November we also witnessed an American embargo imposed on Iran, Renault's sixth biggest market, and economic troubles in three other key markets: Argentina, Brazil and Turkey. The consensus was clear: it is going to be difficult for Renault to report upbeat results. As we can see, prior to the call the average price target for Renault shares was getting lower and lower dropping by 15% from €95 average price tag in October 2018 down to €80 in February.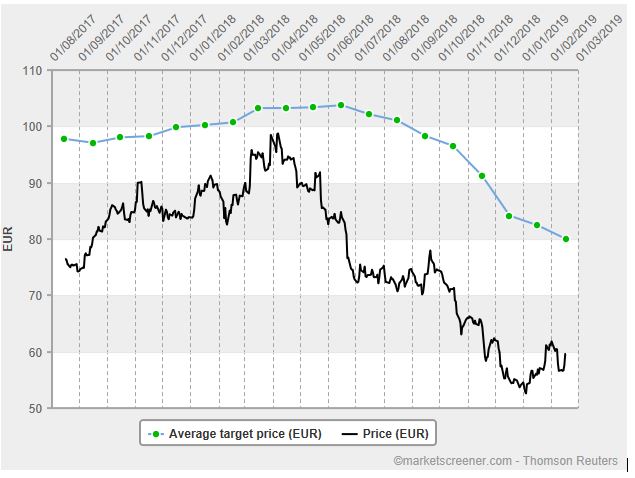 Renault, however, surprised many with rather stable results, in line with general three-point guidance declared on previous earning call:
-Increase Group revenues (at constant rates)
-Maintain operating margin above 6% and
-Generate positive operational free cash flow.
French car manufacturer managed to hit all three key goals: increasing revenue at constant rates by 2,5%, scoring operating margins at 6,3% of revenues and generating positive cash flow of € 607 mln.
This, however, did not mean that financial situation has improved. On the contrary. In nominal terms revenue decreased by 2,3% down to €57.419 million and even that has been achieved by acquisition of Jinbei & Huasong: China-based light commercial vehicle manufacturer which contributed with sales accounted for165k units to the top line. Operating margins went down from 6.6% comparing on year-to-year basis and free cash flow dived by 35% from €945 down to €607 mln. All this doom and gloom must be looked at from the perspective of very troubled half of the year, and if we take this into account, then we can say that Renault passed difficult stress test, while keeping eyes on the long-term growth plan in rapidly changing and extremely demanding environment of automotive industry.
The reason why I consider this quarter as a decent performance is the view which can we get by looking closer under the bonnet of the earning call.
Starting from the Sales, organic sales dropped y-o-y by 44 thousand units, thus decreasing its share in global market by 0.3% , but if we take into consideration forces majeure such as American embargo on Iran, which reduced units sales for year 2018 by 60.732 units plus Argentinian and Turkish economic meltdown affecting Renault by lowering its sales by another 63.669 units (while increasing market share in Argentina!), we starts to get much more positive image on Renault performance, especially when we will add numbers brought by newly acquired J&H. The acquisition also helped French group to move towards its plans to reduce its exposure to European market by increasing share of international sales up to over 50% (50,6% vs 49,2% in 2017).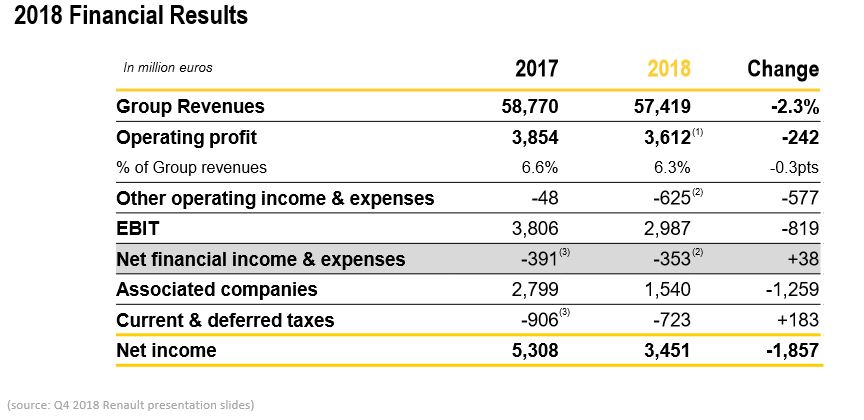 Group revenues for year 2018 were equal to € 57.419 million, down from €58.770mln, a significant drop of 2.3%, (- €1.351 mln), but even here we need to look closer, since Renault CFO, Clotilde Delbos, stressed that top line was heavily affected by FX, reducing revenues by whooping €2.224 mln. If we would add such amount to the revenues we would get €59.643, increase by 1.48% from previous year. In year 2017, however, the top line was also affected by adverse exchange rates development, reducing revenues by €924 million. Therefore adjusted 2017 FX revenues would be equal to 59.694, higher than revenues from year 2018 by just €51 million. So, basically, we can say that revenues were flat due to acquisition of Chinese LCV manufacturer J&H. Unfortunately, Renault does not provide information about revenues contribution by brands (excluding AVTOVAZ, producent of Lada), so we cannot judge how much decline of organic revenue we have witnessed in previous year. However, we can try to calculate very rough estimation for J&H contribution to the revenue of Renault Group. J&H sales attributable to Renault for year 2018 were equal approximately 165.000 units, with arithmetic average of price equal to 94.300 Renminbi. If we apply conversion price of Yuan to Euro 0.13, we end up with attributable revenues around €2 billion. And ff we would subtract this number from revenues, the organic revenue dropped by 5.7%! And that doesn't even consider the fact that sales financing revenues increased, thus cratering organic automotive revenues further by €695 million (or 145 if we take into consideration changes in accounting treatment of interest rate subsidies, reducing automotive revenues by €550 milllion on comparative basis).
Disclosure: Author is long Renault and has no plans to add/sell its holdings within next 72 hours.