Record Wall Street Euphoria Triggers First BofA "Sell Signal" Since February 2020
At the start of December, we showed in a handful of charts how current market euphoria had blown away past "dot com" levels and was in uncharted waters... and why not: as KLC put it, "there couldn't be a greater bullish cocktail of recent news, with three COVID vaccines showing strong promise against a backdrop of zero interest rates, a record fiscal deficit, and an uber-dove - Janet Yellen - in charge of it all." And keeping it all going is a continued firehose of central bank liquidity which even in 2021 will amount to 0.6% of global GDP injected every single month.
(Click on image to enlarge)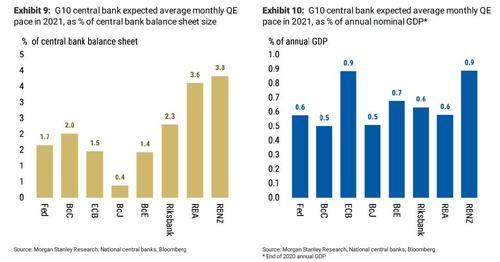 Obviously, none of this is lost on investors who have been dragged into the year-end meltup. As a reminder, not only is December the most bullish month of the year, up 74% of the time with an average return of 1.3% -but the last 10 days of the month are most bullish...
(Click on image to enlarge)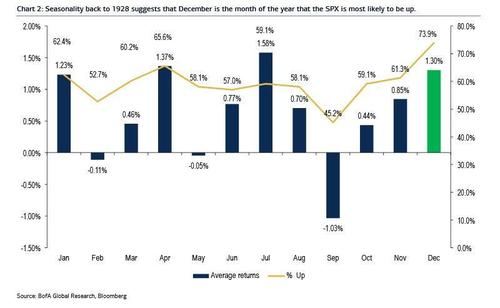 ... which is probably why the latest, December, Fund Manager Survey from Bank of America reveals that investors are closing the year the most bullish all year, and perhaps in series history, with respondent cash levels now down to 4% (triggering a BofA "sell" signal) as vaccine hope induces "buy the reopening" trade.
According to the survey which polled 217 panelists with $576BN in AUM, everyone is uniformly bullish, with bulls adding exposure in consumer, commodities, EM (60% say EM best performer in '21). According to Hartnett, equity "barbell" strategies all the rage while (the few remaining) bears note cash levels fall to 4.0%, triggering an FMS Cash Rule "sell signal"; The last time the sell signal was triggered was in February 2020 - everyone knows what happened nextx.
(Click on image to enlarge)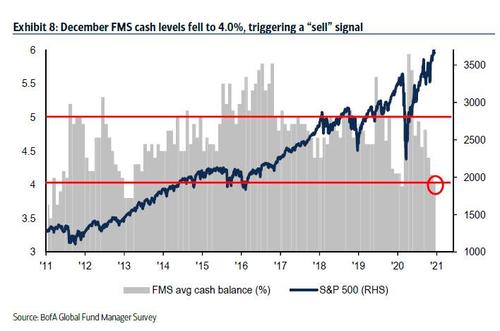 With prices setting the narrative, it is hardly a surprise that 2020 was a year utterly dominated by COVID-19 which caused the quickest economic and financial market collapse of all time. However, as Hartnett notes, "just half a year later, recovery expectations have also surpassed prior recessions in both speed and magnitude."
Disclaimer: Copyright ©2009-2020 ZeroHedge.com/ABC Media, LTD; All Rights Reserved. Zero Hedge is intended for Mature Audiences. Familiarize yourself with our legal and use policies every time ...
more