Record Investor Euphoria Is Now Literally Off The Chart
This week's Democratic sweep added more fuel to risk markets and pushed US government bond yields to new highs. Neither the violent scenes from Capitol Hill nor the potential negatives from a Democratic sweep, i.e. tax rises and stricter regulations, managed to unsettle risk markets this week. Risk markets exhibited similar resilience in December. At the time, neither the lack of any new policy impulse by the Fed, pension fund rebalancing flows nor fears about the UK variant of the virus managed to unnerve risk markets.
What, according to JPM, explains this remarkable resilience of equity and risk markets more generally since December? The answer is simple: central banks, or rather liquidity, "which appears to be reverberating once again in an intense manner via retail investors, in a repeat to Q2 of last year." Panigirtzoglou points to retail investors' activity, especially that of younger cohorts, and says that as the "anticipation of further US stimulus checks", or 'stimmies' as they are better known...
Investment advice...on TikTok? Young investors are weighing in on how people should spend their $600 "stimmy" checks. https://t.co/SHkfFZ5pot pic.twitter.com/McfQP7Nf7D

— Bloomberg TV (@BloombergTV) January 5, 2021
"This force is likely to be sustained over the coming weeks", JPM says and points to several indicators of euphoric retail trader activity including record call option trading both on exchange, which is forcing yet another gamma-squeeze (or as JPM puts it "To the extent this accumulation of long call options by retail investors continues, it could eventually result in a rise in vol via the delta-hedging of accumulated short call option positions by dealers taking the other side, similar to last August") ... as well as off.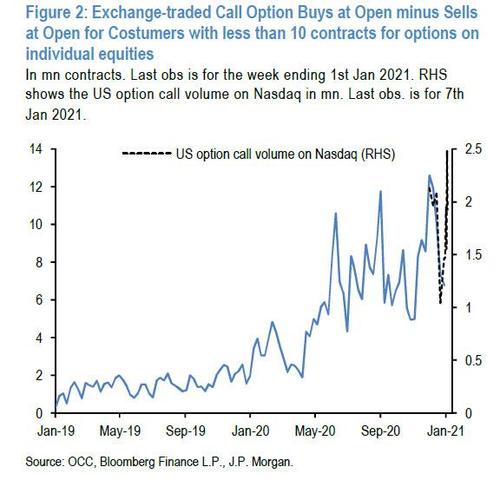 To quantify the latter, JPM looks at the six main OTC market venues used by retail brokers: Virtu Americas LLC, Citadel Execution Services, G1 execution services, Two Sigma Securities LLC, Wolverine Securities LLC and UBS Securities LLC. The chart below shows the aggregate share to OTC transaction routed to different market venues (destination flow) by retail brokers, again as percentage of total US equity market volume. After slowing during the third quarter, US retail activity has "rebounded strongly in November.
Disclaimer: Copyright ©2009-2021 ZeroHedge.com/ABC Media, LTD; All Rights Reserved. Zero Hedge is intended for Mature Audiences. Familiarize yourself with our legal and use policies every ...
more