Record Investor Euphoria Is Now Literally Off The Chart
The past few months can best be characterized as a period of unprecedented market optimism and sheer euphoria, and we have done just that with several recent articles.
But whereas in the recent past, the euphoria was always bounded by the upper limit reached during the insatiable buying spree of the dot com bubble, the first week of the year is when we went off the chart. Literally.
As the latest Citi Panic/Euphoria model shows, this week's Panic/Euphoria jumped to a record 1.83 versus an upwardly revised 1.69 in the prior week.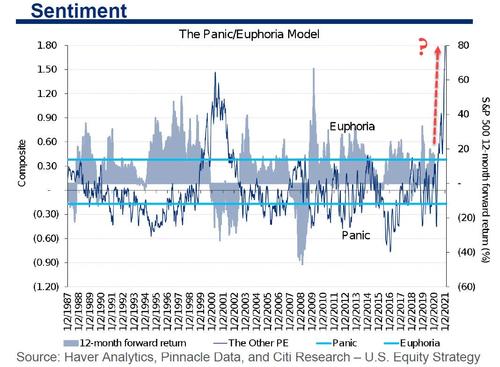 What does this mean? It's simple: as Citi chief economist Tobias Levkovich writes when looking at market returns following previous euphoria extremes, there is now a "100% historical probability of down markets in the next 12 months at current levels."
"Nasdaq Volume as % NYSE (though volatile), retail money market funds, margin debt, AAII & II bullishness, put/call premiums and NYSE short interest ratio all contributed to the elevated reading" according to Citi.
And just to make it extra confusing, in the same report Levkovich writes that "the normalized earnings yield gap analysis is 1.56 standard deviations below its 40-year average, yielding an 88% probability of higher markets in a year's time, based on history." So, 100% probability the market will be lower and 88% probability it will be higher: brilliant.
It wasn't just Citi stunned by the record market euphoria: in his latest Flows and Liquidity report, JPM quant Nick Panigirtzoglou took a break from bashing bitcoin (well not really, more on that in a subsequent post, suffice to say anyone who listened to him and sold last Friday has missed out on 35% gains in the past week), and instead muses at the resilience of the market, driven by - what else - investor euphoria, to wit:
Disclaimer: Copyright ©2009-2021 ZeroHedge.com/ABC Media, LTD; All Rights Reserved. Zero Hedge is intended for Mature Audiences. Familiarize yourself with our legal and use policies every ...
more