Range Resources: A Strong Buy In The Natural Gas E&P Space
I view the natural gas E&P space as one of the most attractive sectors for investment in the market right now. Natural gas has been in a 7 year bear market and many of the producers are selling at valuations that assume depressed price spreads well into the future. Yet, there are significant macro tailwinds for this sector that leads me to believe that many high quality companies in this sphere have very high upside potential.
Video Length: 00:08:07
I wrote about Ultra Petroleum (NYSE:UPL) and Antero Resources (NYSE:AR) earlier this year, but that was before the big price crash in August. One of the attractive features for AR earlier this year was its massive hedges that go well into the future.
I'm still a big fan of AR. However, with prices as low as they are now, the downside for some of the other producers is now more limited than it was in early 2015. For that reason, I prefer to focus a bit more on some other names in the sector.
There are a few companies I like, but Range Resources (NYSE:RRC) is right up towards the top of the list.
A Low-Cost Producer that is Becoming More Efficient
There's been much fuss made over falling natural gas prices and high supply, but I feel as if the reasons for both of these trends are often missed. Falling gas prices are a result of both technological improvements and economies of scale. The more gas America produces, the cheaper it becomes to produce. This is because overhead and marketing costs are still a significant component of per unit costs. Range Resources exemplifies that trend quite nicely.
Range has increased production from 95 Bcfe in 2006 to 424 Bcfe in 2014. That's an increase of almost 350%.
Click on picture to enlarge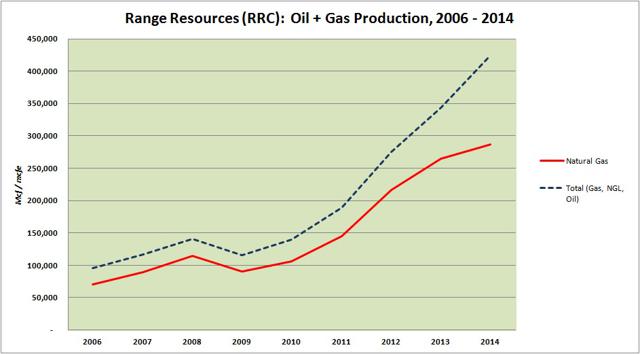 The more it has produced, the less expensive each unit of production has become. RRC's all-in production cost per Mcfe has fallen from $5.04 in 2009 down to $2.66 in 2014.
Click on picture to enlarge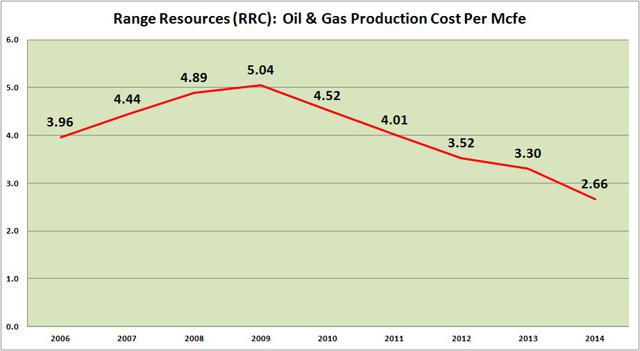 You can get a better sense of this by seeing the breakdown of costs. G&A expenses were highest in 2009 and 2010 after RRC had to cut production from 2008 levels. Direct operating expenses have fallen significantly since 2008, dropping from $1.01 down to $0.35 in 2014. Depletion has been lower as well, suggesting that RRC is getting more bang for the buck over time, too.
Click on picture to enlarge

This insight also explains why Antero Resources, another company operating in the natural gas E&P sphere, plans to dramatically ramp up production over the next several years. Moreover, this trend shows why it's a bit foolhardy to try to gamble on natural gas prices going up right now.
Disclosure: Author is long UPL, RRC, AR, and COG.