Q2 2016 Saw The Greatest Corporate Earnings Gains Of All Time
Does gold lose its luster if interest rates rise and investors begin getting better interest payouts on bonds and such? Sort of… Precious metals are usually bought for three reasons: an inflation hedge, a panic hedge or a metal in demand for jewelry and hi-tech applications. There is a demographic trend that argues for increasing gold usage in jewelry and hi-tech. Additionally, both India and China, with 37% of the total world population between them, have a strong preference for gold jewelry. Barring war or pandemic, their population growth is unlikely to abate.
In short, I think most analysts have viewed Goldcorp's short-term issues as the beginning of some sort of negative trend. Scratching below the surface, I disagree. This is a senior producer with 3-4 million ounces of production (ex the by-products) and 41 million ounces of gold reserves, higher than most better-known names. We are buying shares as both a hedge and a potential gain.
A More Diversified Way to Buy PMs
If investing in what I consider a quality senior miner seems scary, you might want to take a look at the ASA Gold and Precious Metals closed-end fund (ASA) for greater diversification. We are buying it for more conservative clients. The fund's top 10 holdings are: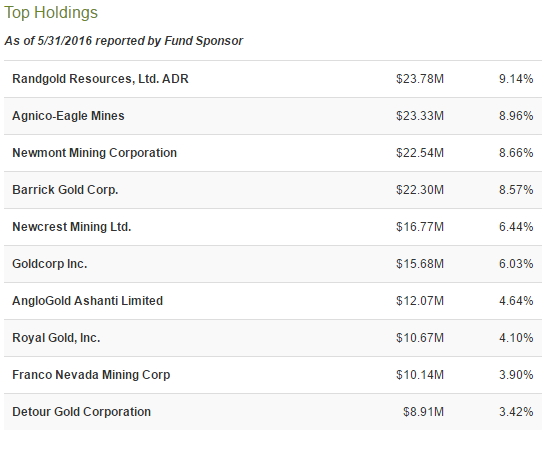 ASA pays a miniscule 0.25% dividend and trades at a 6% discount from NAV (up from a whopping 21% discount a few months ago when no one wanted to own gold!)
Finally, a Hold-Your-Nose Rank Speculation...
U.S. Global Investors (Class A - GROW) is an under-performing mutual fund family. It just added its first ETF in an attempt to capitalize on what have been the "high flying" airline stocks. Given the volatility of this industry, the fluctuating price of oil transformed into jet fuel, and the fickle nature of the traveling public, terrorism concerns, etc., I wish them well.
Their mutual funds have traditionally covered natural resources, precious metals and emerging markets, though a couple newer ones have broadened the base a little. They seldom outperform their peers in any of their categories.
Their market cap is double their enterprise value and, by most valuation measures I use, they are dreadful. Net margins come in at a -71%, the ROE is -20%, the ROA is -19%, and their 3-year revenue growth is -27%. "Other than that, how did you like the play, Mrs. Lincoln?"
So why would I consider owning it? Because not all investors are as sharp as our clients and subscribers - when some buyers want to get in on the boom in a particular sector they just pick a mutual fund with the most convincing advertising that has the words they are seeking in the name of the fund.
In this case, I think that may be that is likely to be "Precious Metals" in the coming months. Since that is where U.S. Global made its bones, I think it has an inside track to grab investor eyeballs. GROW sells for 2.06, about the only precious metals fund manager whose parent company shares are actually down over the past 52 weeks. However, the last time gold enjoyed popular sentiment, the stock rose to $10. Every dog shall have its day? At least the company has no debt and a good balance sheet. Who knows? If gold and silver run further, maybe GROW's income statement will look good, too. It's worth a small gamble for our Aggressive Portfolio.
Disclosure: I am/we are long GG, GROW.
more