Premier Financial - Stock Of The Day
Summary
100% technical buy signals.
16 new highs and up 23.43% in the last month.
60.97+ Weighted Alpha.
The Barchart Chart of the Day belongs to the regional back Premier Financial (Nasdaq: PFC). I found the stock by using Barchart's powerful screening tools to find the stocks with the highest Weighted Alpha and technical buy signals. After I sorted for the most frequent number of new highs in the last month, I used the Flipchart feature to review the charts for consistent prices appreciation. Since the Trend Spotter signaled a buy on 1/28 the stock gained 23.43%.
Premier Financial Corp. operates as the holding company for Premier Bank and First Insurance Group that provides community banking and financial services. It offers checking accounts, savings accounts, and retirement accounts; mortgages, home equity loans, and auto and vehicle loans; debit cards; trustee services; and various insurance products, such as auto/vehicle, health, homeowners, and life insurance, as well as property, liability, business vehicle, cybersecurity, risk management, and employee group plans. The company also provides commercial real estate loans, equipment loans, working capital lines of credit, agricultural loans, construction loans, SBA/USDA loans, and letters of credit; remote deposit, cash management, merchant, government banking, lockbox, ACH and check positive pay, and wire transfer services; investment products; and Internet and mobile banking services. It operates through 78 branches, 12 loan offices, and 2 wealth offices in Ohio, Michigan, Indiana, and Pennsylvania; and insurance agency with ten offices in Ohio. The company was formerly known as First Defiance Financial Corp. and changed its name to Premier Financial Corp. in June 2020. Premier Financial Corp. was incorporated in 1995 and is headquartered in Defiance, Ohio.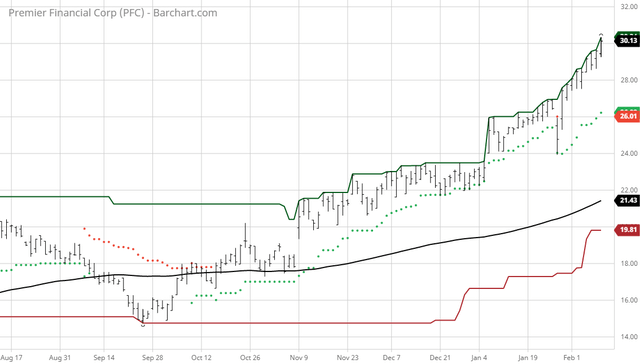 Barchart technical indicators:
100% technical buy signals
60.97+ Weighted Alpha
4.80% gain in the last year
Trend Spotter buy signal
Above its 20, 50 and 100 day moving averages
16 new highs and up 23.43% in the last month
Relative Strength Index 74.48%
Technical support level at 29.48
Recently traded at 30.13 with a 50 day moving average of 24.54
Disclosure: The Barchart Chart of the Day highlights stocks that are experiencing exceptional current price appreciation. They are not intended to be buy recommendations as these stock are ...
more