Pre-IPO Coverage: Change Healthcare
Change Healthcare (CHNG), a healthcare software platform, is expected to IPO on Thursday, June 27. At a price range of $16-$19 per share, the company plans to sell up to $700 million in common stock and an additional $250 million in tangible equity units. At the midpoint of the IPO price range, CHNG will have an expected market cap of $5.2 billion and currently earns our Attractive rating.
Even if you're not familiar with CHNG, there's a good chance you've interacted with the company. CHNG facilitated 14 billion healthcare transactions with a total value of ~$1 trillion last year, or roughly 1/3 of all U.S. healthcare expenditures. Their customer base includes over 900,000 physicians, and they transact clinical records for over 112 million patients. In other words, the company has become an integral part of the U.S. healthcare system.
This report aims to help investors sort through Change Healthcare's financial filings to understand the fundamentals and valuation of this IPO.
GAAP Earnings Mislead Investors
CHNG was founded in 2017 through a joint venture between Nashville-based Change Healthcare (formerly HCIT Holdings) and the Technology Solutions segment of McKesson Corporation (MCK). CHNG is a holding company that has no assets aside from its interest in the joint venture.
At first glance, CHNG appears to be growing rapidly. GAAP net income increased from $192 million in 2017 to $234 million in 2018, or 22% year-over-year (YoY). However, CHNG's economic earnings – the true cash flows of the business – actually declined from $257 million to $243 million, or -5% YoY. See Figure 1.
Figure 1: CHNG GAAP Net Income and Economic Earnings: 2017-2018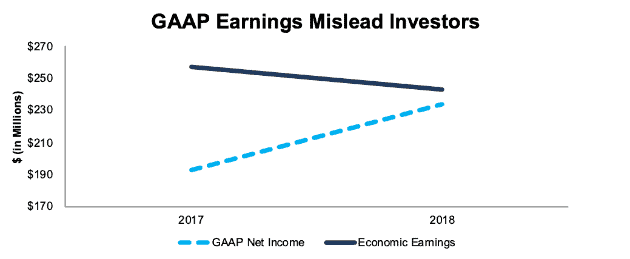 Sources: New Constructs, LLC and company filings
A variety of factors – integration costs, new accounting rules, tax reform, and the sale of its Extended Care business, among others – distort CHNG's reported earnings. In both years, the company incurred significant integration and restructuring costs that make reported earnings lower than economic earnings. The biggest items contributing to the increase in GAAP net income for 2018 are:
Disclosure: David Trainer, Kyle Guske II, and Sam McBride receive no compensation to write about any specific stock, style, or theme.
Disclosure: New Constructs staff receive no compensation to ...
more