Pipeline Earnings Provide A Boost
Investors often ask what will it take to get pipeline stocks moving upwards? Attractive valuations and the prospect of higher cashflows are compelling, but when will investors start acting?
They may already being doing so. Kinder Morgan kicked off earnings after the close on July 23rd. Since then, results for the sector have generally come in as expected, with more positive surprises than negative. The encouraging free cash flow outlook remains intact (see Pipeline Cash Flows Will Still Double This Year). The most positive among the big companies was Williams Companies (WMB), whose earnings scarcely showed any impact of the pandemic (see Williams Has COVID-19 Immunity). Their gathering and processing business held up better than volumes across the country, and WMB took another $100MM off their 2020 growth capex which further cheered investors. WMB was up 8% following the announcement.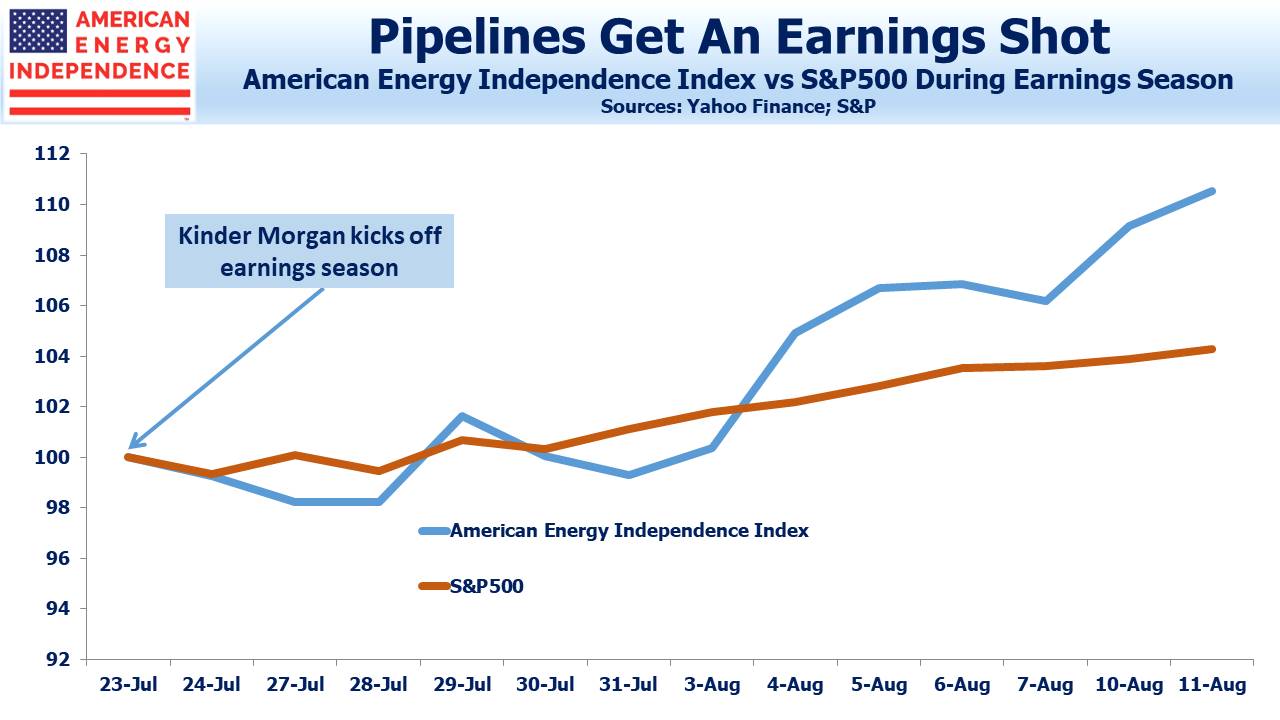 The two big Canadians, Enbridge (ENB) and TC Energy (TRP) were both resilient. ENB even added $100MM to their growth capex plans – they're probably the only company that could do so without seeing their stock sell off. TRP has one of the bigger capex budgets, mostly driven by the perennially delayed Keystone XL. Joe Biden has committed to withhold the required Federal approval of this cross-border project, reflecting a leftward shift in his platform. If he wins the election, Canadian oil producers will suffer but investors in TRP will likely benefit from higher free cash flow without the Keystone spending.
Cheniere Energy (CEI) reported $405MM of cargo cancellation revenues. Cheniere has always maintained that their 100% investment grade customer base and very long term contracts insulated the company from fluctuating volumes. Falling demand for shipments of Liquified Natural Gas (LNG) caused some weakness in CEI earlier in the quarter. The $405MM represents some tangible evidence of the security of the contracts. Typically, when a buyer cancels a contract CEI takes ownership of the LNG shipment and is free to find a new buyer.
The information provided is for informational purposes only and investors should determine for themselves whether a particular service or product is suitable for their investment needs. Graphs and ...
more