E

Peak Fintech – Revenue Expected To More Than Double In FY 2021
Peak Fintech Group, an innovative Fintech service provider to the Chinese commercial lending sector, released its Q3/2020 financial statements in late November for the 3-month period ending September 30th which we reported on elsewhere back then. Recent developments in the company, however, have caused us to revisit the company's performance expectations. Here are the details:
About Peak Fintech (CSE: PKK; OTCQX: PKKFF)
Peak Fintech is the parent company of a group of financial technology ("FinTech") subsidiaries* operating in China's commercial lending industry.
Peak thereby provides an investment vehicle for North American investors looking to participate in China's FinTech industry.
In China, Peak's subsidiaries use technology, analytics, and artificial intelligence ("AI") to provide loans, help small and medium enterprises ("SMEs") obtain loans, help lenders find clients, and also minimize lending risk through an ecosystem of lenders, borrowers, loan brokers, and other participants that have come together around its Cubeler Lending Hub platform.
*Over the past three years, Peak has created six operating subsidiaries in China focusing on FinTech solutions in the commercial credit industry:

Asia Synergy Information Technology ("AST");
Asia Synergy Data Solutions ("ASDS");
Asia Synergy Financial Capital ("ASFC") – joint venture, 49% ownership;
Asia Synergy Credit Solutions ("ASCS");
Asia Synergy Supply Chain Technology ("ASSC") – joint venture, 49% ownership and
Jinxiaoer Technology Ltd. ("Jinxiaoer").
Quarterly Highlights & Revisions (All figures in CAD unless otherwise stated)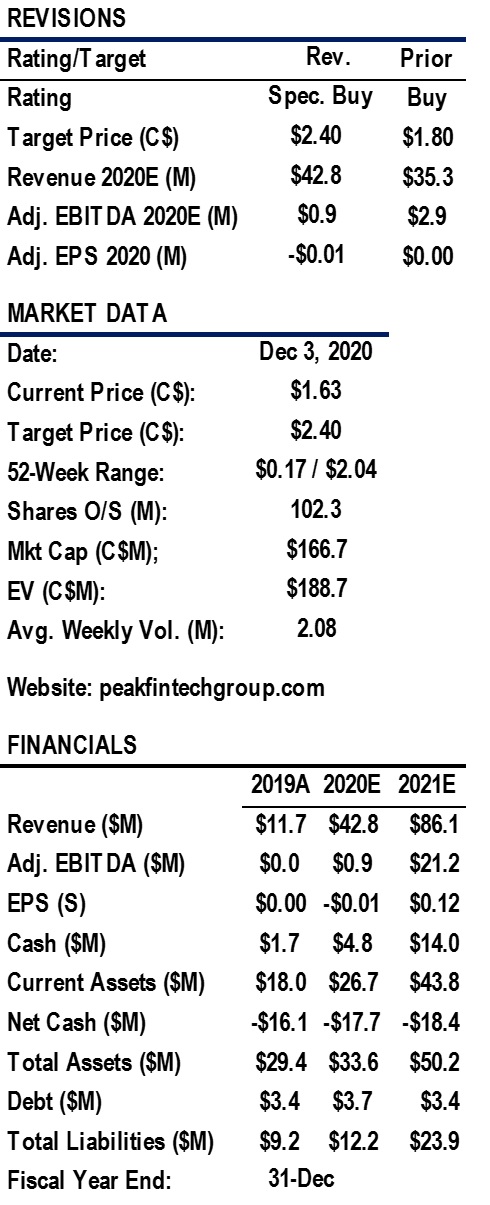 Quarterly Insights
revenue doubled to $15.1M which was 35% higher than our estimate of $11.2M which illustrates the adoption of Peak's solutions in the marketplace.
94% of revenue ($14.2M) million was generated by Peak's Fintech Platform compared with $0.9 million from Financial Services.
Outsourcing Service expenses currently represent almost 89% of sales - up from 75% in Q2 and this expense has hampered positive EBITDA. This expense should be reduced to 40-50% of the sales by the end of 2021 when some of those services are brought in-house.
My research of Peak Fintech Group suggests that it has a bright future. I currently do not own any stock in the company but plan to buy some in early 2021 if their stock continues to hold up. ...
more