Pay Your Holiday Bills With These Monthly Dividend Stocks Going Ex-Dividend Soon
The general practice among dividend paying U.S. corporations is to declare and pay dividends quarterly, or four times a year. This contrasts with how we pay our bills and expenses. The credit card, mortgage, power, and other bills show up every month.
For an investor using dividend income to pay living expenses, this mismatch makes planning difficult. Thus, the appeal of the handful of stocks that pay dividends every month.
Outside of the swamp that is closed-end funds, there are about three dozen publicly traded companies that pay monthly dividends. This time of year, you may benefit from picking up shares monthly dividend stocks that will pay dividends in time to help pay off the holiday credit card bills and even monthly budgeting going into 2020.
Common stock dividends are declared by corporate Boards of Directors. There is no assurance that future dividends will be paid until an actual declaration has been released. Boards of Directors understand that investors expect and count on steady dividend payments. Most dividend paying corporations work to sustain and grow their common stock dividend rates.
A dividend declaration includes three pieces of important information. One is the amount or dividend rate. This is a per share payment amount. The other two are the record date and payment date. Payment date is when the dividend would be credited to your brokerage account. To receive the dividend payment, you must be a "shareholder of record" on the record date.
Now that you are smarter than the average investor about ex-dividend dates, here are three monthly dividends stocks going ex-dividend in the next few days.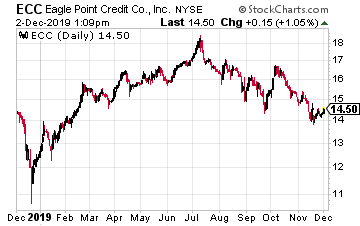 Eagle Point Credit Company, Inc. (ECC) has a primary investment objective to generate high current income by investing in equity and junior debt tranches of collateralized loan obligations (CLOs).
ECC pursues a differentiated private equity style investment approach, focused on proactively sourcing investment opportunities in CLO equities.
Disclaimer: The information contained in this article is neither an offer nor a recommendation to buy or sell any security, options on equities, or cryptocurrency. Investors Alley Corp. and its ...
more