Oracle (ORCL) To Report Q4 Earnings: What's In The Offing?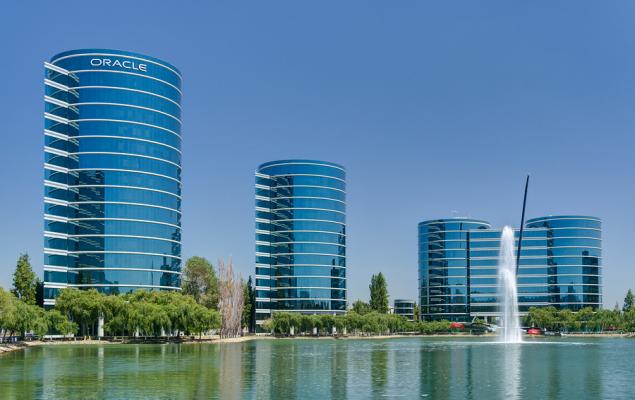 Oracle ORCL is slated to release fourth-quarter fiscal 2019 results on Jun 19.
Notably, the company surpassed the Zacks Consensus Estimate in the trailing four quarters, with an average positive surprise of 3.97%.
Past-Quarter Performance
In the last reported quarter, Oracle delivered non-GAAP earnings of 87 cents per share, which surpassed the Zacks Consensus Estimate of 84 cents. Revenues of $9.618 billion marginally outpaced the Zacks Consensus Estimate of $9.608 billion.
Earnings increased approximately 8% from the year-ago quarter (up 12% in cc). Further, revenues decreased 1% year over year but increased 3% at cc.
What to Expect in Q4?
For the fourth quarter of 2019, total revenues are anticipated to grow 1-3% at cc. Non-GAAP earnings are anticipated to be $1.05-$1.09 per share for the fourth quarter. While non-GAAP earnings are expected to be $1.08-$1.12 per share at cc.
The Zacks Consensus Estimate for fourth-quarter earnings is pegged at $1.07, unchanged for the last 30 days. This indicates an improvement of about 8.1% from year-ago quarter. For quarterly sales, the consensus mark is pegged at $10.96 billion, suggesting a decline of 2.7% from the year-ago reported quarter.
In the past year, the company's shares have gained 14.5%, underperforming the industry's growth of 22.6%.
Let's see how things are shaping up prior to this announcement.
Factors to Consider
Oracle is benefiting from increasing adoption of its product portfolio and synergies from strategic buyouts. Moreover, ongoing cloud-based momentum bodes well for the company's top line.
Total cloud services and license support revenues (70% of total revenues) for the last reported quarter improved 1% (4% in constant currency) to $6.66 billion. Further, the next-generation autonomous database launched by Oracle is a key catalyst. Management believes that the new database will improve Oracle's competitive position in the cloud against Amazon Web Services ("AWS") and is expected to generate incremental revenues going ahead. This initiative will also aid the company in the upcoming quarterly results.
Disclosure: Zacks.com contains statements and statistics that have been obtained from sources believed to be reliable but are not guaranteed as to accuracy or completeness. References to any specific ...
more