Opko Health's Q4 Service Revenues More Than Double Due To COVID-19 Testing Services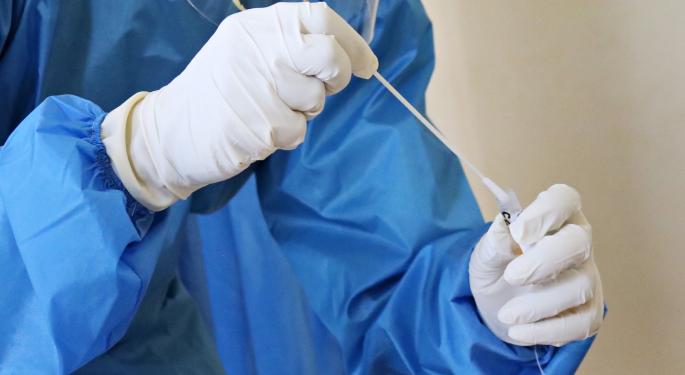 Opko Health Inc (NASDAQ: OPK) reported Q4 results that came in above expectations with EPS of $0.05 beating the estimate of $0.04 and sales of $494.6 million higher than the consensus of $443.1 million.
The growth was driven by a more than double increase in service revenues, slightly offset by lower product revenues.
Product revenues decreased 4% Y/Y to $30.8 million, while service revenues increased 157% to $457.9 million due to COVID-19 testing volume that was slightly offset by lower clinical test volume. Revenues from licensing and the transfer of intellectual property fell 59% to $5.9 million.
Opko posted a $32.3 million net income, a turnaround from a loss of $112.4 million.
Revenues for BioReference were up 170% to $178 million, which exceeded guidance Q3. COVID-19 PCR testing volume increased 24% sequentially. BioReference processed 4.3 million COVID-19 PCR tests during the quarter and can currently process more than 100,000 per day. It also performed 220,000 COVID-19 serology tests during the quarter.
Last month, BioReference had signed an agreement to provide testing for all 30 Major League Baseball teams, adding to its contracts with the National Football League, the National Basketball Association, the National Hockey League, and Major League Soccer.
Opko Chairman and CEO Philip Frost said on the Q4 earnings conference call that the firm saw record COVID-19 PCR testing volume but noted the base business stalled toward the end of the quarter due to the surge in COVID-19 across the U.S. Sample volume in the core business was down 7%. Core business volume is expected to remain 5% to 10% lower because patients are still reluctant to visit their doctors, although trends will likely improve at a moderate pace in the second half of the year.
GeneDx volumes were stable in the current quarter compared to a year ago.
The company finished the quarter with $72.2 million in cash, cash equivalents, and marketable securities. Opko also has availability under its current credit line with JP Morgan of $57.6 million and an unutilized $100 million credit facility.
© 2021 Benzinga.com. Benzinga does not provide investment advice. All rights reserved.