One Kind Of Cannabis Stock Just Did 20x Better Than The S&P 500
The cannabis sector as a whole has risen more or less uninterrupted in the past six weeks. Cannabis was already having a good 2021, as we expected, but it's gotten even better in the last 48 hours.
Why? Well, the prospects for legalization have never been so bright.
Image Source: Unsplash
Late Tuesday, Senate Majority Leader Chuck Schumer remarked that marijuana reform was "a key priority" for this session, and two Senators, Ron Wyden (D-OR) and Cory Booker (D-NJ), announced they would be putting forward reform legislation in a matter of "weeks."
Of course, we've sort of heard comments like these before, but the truth is these statements mark the very first time lawmakers have made an actual, formal commitment to marijuana reform.
And that means, despite the rapid 80%-plus profits we've realized already, there's still at least some time left to move into a very specific kind of American cannabis business...
Three Little Letters Add Up to Massive Profits
We've seen triple-digit gains from across the legal cannabis sector, from real estate investment trusts (REITs), to processors, to geneticists, to farming operations. And there's every reason to expect that to continue.
But truly superior returns are coming from one red-hot–and-getting-hotter segment.
I'm talking about the multistate operators – MSOs.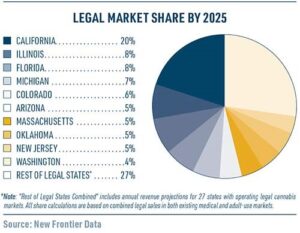 Very simply put, these are companies licensed to grow, process, and sell cannabis across multiple U.S. states in the biggest marijuana market on the planet. Legal, global cannabis sales hit $15 billion in 2019, and more than 90% of that total – $13.6 billion – came from the United States.
Bear in mind, those are 2019 numbers. By 2025, New Frontier Data is projecting U.S. cannabis sales will reach $41.5 billion. The chart at the left does a fantastic job of spotlighting states that are already powerful cannabis profit engines but offer much more upside to come.
Disclaimer: Any performance results described herein are not based on actual trading of securities but are instead based on a hypothetical trading account which entered and exited the suggested ...
more