E

Nxt-ID Gets A New Lease On Life
At one level the technology is essentially a generic authentication solution, for which there are many more applications, from the 2018 10-K:
Fit Pay's TRM Platform is built to securely authenticate and provision any credential, making it ideal for digital hotel room keys, transit, ticketing, access, and other use cases. Fit Pay believes that each of these markets represents an area of potential future growth.
FitPay's revenues are still paltry and it requires funds and marketing nous to be able to expand. On the other hand, they have not been sitting on their laurels, there is significant expansion:
The breadth of the network, with all the major card networks, now including Discover Network (Discover Card members can now use Garmin Pay) from January 2019 and now 340 issuing banks in 245 countries.
Expansion at existing customers like Garmin, which now has FitPay in 16 of their models with price points between $199-$2500.
Adding new customers like Swatch Europe. SwatchPay is now enabled by the company's TRM platform, starting with four models in Switzerland but expansion will follow.
New devices like the Flip Chip (see below).
There has been a 300% increase in device activation between the end of Q1 2018 and the end of Q1 2019.
Flip Chip
The company itself is coming up with new use cases to leverage its FitPay network, introducing the Flip Chip a digital wallet for Bitcoin (BITCOMP), enabling holders to pay seamlessly with Bitcoin at millions of POS systems. From the company website:

It's actually a broader instrument as value can be loaded on your Flip directly from a checking or saving account through your bank's on-line service or mobile application, or by setting up an ACH transfer from your bank. Flip can also be loaded through direct deposit, cash deposits through Visa Readylink Load Network locations, or with some Federal benefits through the GoDirect service.
On the other hand, the Flip cost $29 and there are some (small) fees involved (company website):
There is a Monthly Account Fee of $1.99 to maintain your Flip account and a fee of $.99 to add more value to the Flip Chip. The Monthly Account Fee will be waived if you make three or more transfers totaling more than $500 in a single month. The Bitcoin to USD exchange fee is 3% (plus applicable miner fees).
In summary, this is an interesting way to leverage FitPay but like FitPay itself, it requires funds and marketing nous to be able to expand.
Finances
This is the part where it gets complicated, here is a five year (GAAP) overview:
Data by YCharts
EBITDA has been positive but since they pay a substantial amount of interest (among other things, like stock-based compensation and amortization and change in fair value of contingent consideration) net earnings aren't.
But the situation is improving, the net loss for LogicMark was just $292K in Q1 (with another $1M in loss for FitPay). From the Q1 10-Q: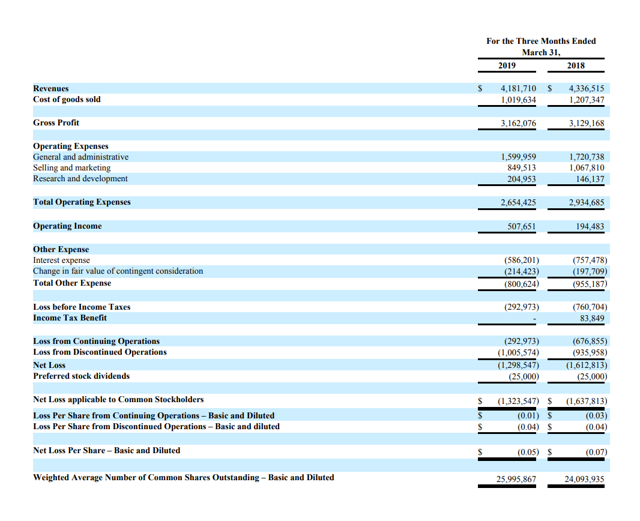 This is just the revenue from LogicMark, FitPay has been relegated to discontinued operations. But FitPay had a major sales collapse in 2018 (10-K):

This was due to (10-K):
During the years ended December 31, 2018 and December 31, 2017, we recognized revenue of $737,993 and $7,065,755, respectively from WorldVentures Holdings, LLC ("WVH"), a related party. Dr. D'Almada-Remedios, a director of the Company, was the former Chief Executive Officer of Flye Inc., a payment technology company owned by WVH.
WorldVentures FlyCards didn't take off as expected, needless to say, and Q1 2019 was no exception (Q1CC):
So for the payments position, Q1 revenue was 221,000 for the quarter versus $514,000 for the previous period of 2018. The decrease was fully due to discontinuation of product sales to WorldVentures.
FitPay suffered a net loss of $1M in the quarter so this business is in need of significant funds. But with just $221K in revenues and $1M in net losses in Q1, there is quite some way to go, needless to say.
While there is potential (gross margin, for instance, is 72%), we feel that despite the promise and progress (see above) the business is in need of a major infusion of funds and/or a strategic partner.
Margins
Data by YCharts
The gross margins that the PERS products command is pretty amazing, and received a further boost from a mix shift to GSM-based PERS which carry higher prices and margins.
The business also produced a pretty decent operating income in Q1 of $507.6K which almost covers the interest expense of $586.2K. It's on the edge of being a viable business.
Cash
Data by YCharts
They are not really bleeding cash and in Q1 the company actually generated nearly 800K in free cash flow, although one has to factor in that it excludes the FitPay, which used $946K in cash.
That is, stand-alone the business seems pretty viable to us and with the free cash flow and lower interest expenses as a result of refinancing (see below), it could start deleveraging.
Disclosure: This article is part of a new "UnderCovered" series of exclusive articles featuring companies with limited coverage. Authors are compensated by TalkMarkets for their time, and ...
more