Nvidia Buys ARM: Outstanding Move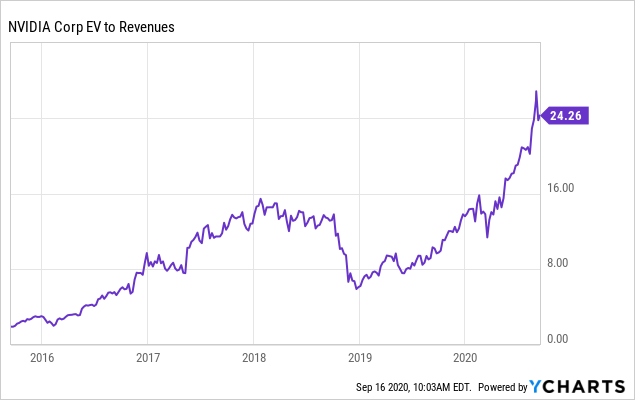 Data by YCharts
SoftBank (OTCPK: SFTBY) paid $32 billion for ARM in 2016, so the Japanese conglomerate is making a profit on the transaction, but not a particularly large one, especially when considering that valuations for tech stocks are through the roof right now. SoftBank is looking to strengthen its balance sheet, and not many companies in the world have the resources and strategic position to buy ARM and to potentiate it further such as Nvidia does. These factors probably explain why the valuation for the deal has remained within reasonable limits.
From a financial perspective, ARM has a very profitable business model. In the trailing 12 months period ended March, revenue for ARM was $1.8 billion with 94% gross margins and an adjusted EBITDA margin of approximately 35% of revenue.
Nvidia management said that the deal will be immediately accretive to Nvidia's gross profit margin and to earnings per share, which reinforces the idea that Nvidia is paying a reasonable price for such a transformative acquisition and that the move is also smart from a financial point of view.
The Big Picture
It makes sense for investors in Nvidia to be worried about the impact of share dilution, the regulatory hurdles, and all the implementation challenges that generally come with a deal of this size. ARM customers will clearly have their doubts about this transaction, so it is crucial for Nvidia to convince ARM's customers that they can still count on ARM's neutrality after the acquisition.
However, the task at hand is not impossible, especially if Nvidia can leverage on the advantages that the deal can generate to customers while also committing to the ARM existing licensing model and to preserve ARM's customer neutrality.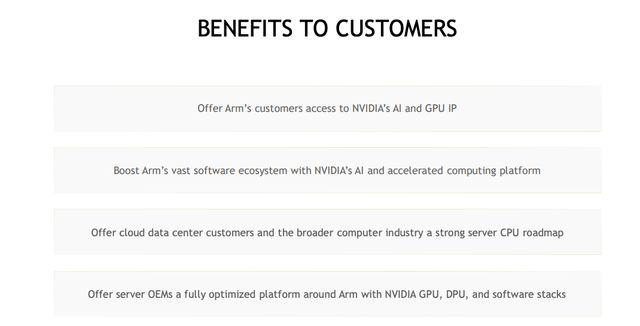 Source: Nvidia
If management can pull it off by convincing both regulators and customers, the benefits for shareholders would be enormous. This acquisition puts Nvidia in a position of strength to capitalize on massive growth opportunities by building the future of computing in the years ahead. The long-term bullish thesis in Nvidia stock looks stronger than ever if the ARM acquisition goes well.
Disclosure: I am/we are long NVDA.
Disclaimer: I wrote this article myself, and it expresses my own opinions. I am not receiving compensation for it. I have no business relationship with any ...
more