Nvidia Buys ARM: Outstanding Move
The company can now bring Nvidia's GPU and AI Technology to massive markets such as mobile phones and PCs. Nvidia is also planning to turbocharge ARM's R&D in order to meet customers' demand for a higher velocity CPU and accelerating expansion into Data Center, Edge AI, and IoT.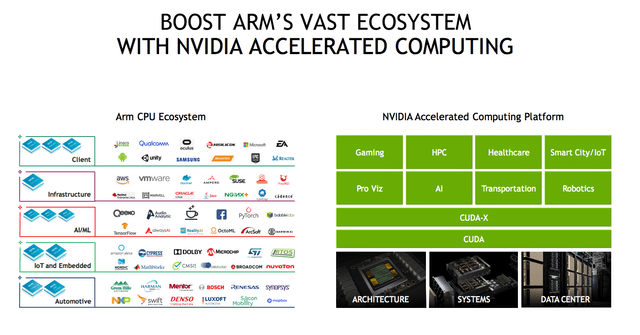 Source: Nvidia
The expansion of the developer community is another key strategic advantage considering how crucial this is for companies in the sector. Nvidia, currently, has nearly 2 million developers using CUDA and other platforms. The acquisition will provide access to more than 15 million developers that are currently on ARM, a massive expansion of the developer base.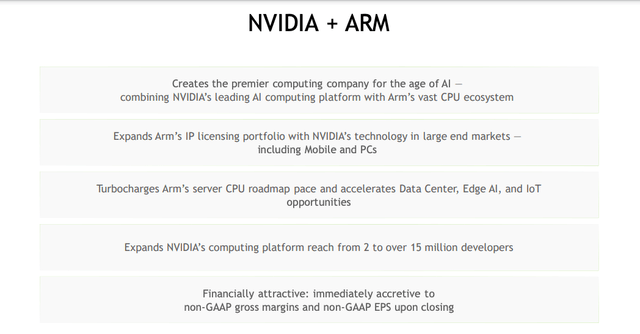 Source: Nvidia
The acquisition will more than double Nvidia's addressable market to $250 billion by 2023. This includes areas such as computer graphics, smartphones, and other devices to data centers, automotive, Edge, and IoT.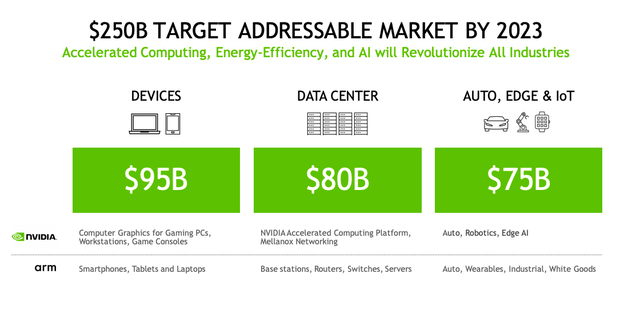 Source: Nvidia
The Financial Side Of The Deal
The deal is sized at $40 billion, consisting of $21.5 billion in Nvidia stock and $12 billion in cash. The remainder of the transaction amount consists of $1.5 billion in equity to ARM employees and an additional potential $5 billion if ARM achieves certain performance targets.
Nvidia, currently, has a market capitalization value of around $325 billion, so the share issuance is relevant even for such a large company. If you are an investor in Nvidia, you probably don't appreciate the share dilution.
However, it is important to consider that Nvidia is issuing shares at a time when valuation is at record levels. In a sense, Nvidia is leveraging on its past success over the years to make this acquisition, issuing shares at a high price and capitalizing on its strategic strengths to create more value after the transaction. Strength, generally, begets more strength in the business world.
Just to be clear, Nvidia has earned an expanding valuation by consolidating its leadership position in many of the most promising areas of the tech sector and delivering rock-solid performance over the years. I am not saying that the stock is necessarily overvalued at these levels, but it is priced for demanding growth expectations. If the company is going to issue more shares, it is always better to do it when those shares are trading at record valuation levels.
Disclosure: I am/we are long NVDA.
Disclaimer: I wrote this article myself, and it expresses my own opinions. I am not receiving compensation for it. I have no business relationship with any ...
more