Nvidia Buys ARM: Outstanding Move
Nvidia's (NVDA) acquisition of ARM positions the company for massive growth opportunities by leading the new computing paradigm over the years ahead. The deal makes a lot of sense from both a strategic and financial perspective.
Regulatory hurdles will not be easy to overcome, and management needs to guarantee to ARM customers that neutrality will not be compromised with the acquisition. If this doesn't go well, the deal could be a major failure.
Those risk factors being acknowledged, this acquisition is an outstanding move by Nvidia, and it can deliver massive returns for investors if Nvidia plays its cards well.
Strategic Considerations
The internet is expanding from people to devices: Trillions of devices will be connected to millions of data centers in the years ahead, creating a new internet of things that is thousands of times bigger than today's internet of people.
In the words of Nvidia CEO Jensen Huang:
From smart retail to manufacturing and service robots, self-driving cars to smart streets and cities. Computing will extend from cloud data centers to every corner of the world. The software powering this new internet will not be written by humans, but by computers, learning from data. This is the new way of computing and it's called AI. The age of AI is driving a tremendous acceleration in the demand for computing, precisely at a time that Moore's Law has slowed.
With this acquisition, Nvidia is in the right position to become both a major driving force and a leading beneficiary from the new computing paradigm.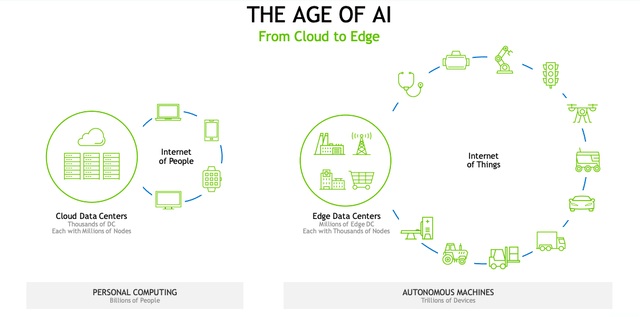 Source: Nvidia
ARM has a spectacularly wide reach, the company's customers have shipped nearly 180 billion chips based on its technology, and ARM's technology is used by 70% of the world's population. This includes ubiquitous devices such as smartphones and PCs as well as more sophisticated technologies such as network infrastructures and supercomputers.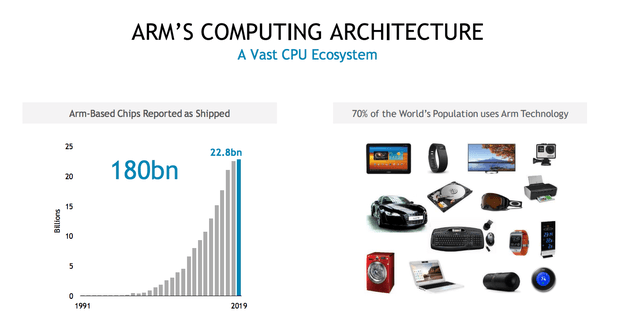 Source: Nvidia
The acquisition combines Nvidia's leading AI computing platform with ARM's huge CPU ecosystem, positioning the company at the forefront of the industry in order to benefit for the next wave of computing into the age of AI.
Disclosure: I am/we are long NVDA.
Disclaimer: I wrote this article myself, and it expresses my own opinions. I am not receiving compensation for it. I have no business relationship with any ...
more