NTG, GUT, CLM: Sell These Three Funds Before They Blow Up Your Portfolio
A CEF may employ a managed distribution policy.
Fund rules allow CEFs to even out dividend payments with a "managed dividend policy." This feature lets a fund estimate its annual portfolio income and then pay it out as level monthly or quarterly dividends. Problems arise when the portfolio does not pay out as much as was estimated. The fund manager may choose to continue the dividend rate instead of cutting the dividend to match the actual portfolio income. The policy leads to dividends that actually return investor capital and not earned income. With the return of capital, you are getting your own principal back and not earnings on your investment.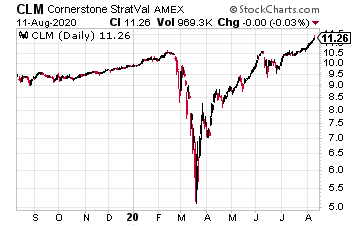 The Cornerstone Strategic Value Fund (CLM) attracts investors with monthly dividends and a 20% annual yield. Unfortunately, out of the current $0.185 per share monthly dividend, $0.1044 has been classified as a return of capital.
More than half of that high yield is a return of your own money. The long term results for CLM tell the tale. Over the last ten years, the fund has generated an average annual return of just 1.64%. If the dividends were reinvested, the yearly return increases to 5.7%. That's far short of the 20% CLM investors were expecting.
Disclaimer: The information contained in this article is neither an offer nor a recommendation to buy or sell any security, options on equities, or cryptocurrency. Investors Alley Corp. and its ...
more