Now Playing: The Slow Grind
But, just about the time the audience assumes that stocks only move in one direction and that maybe adding some margin or leveraged long ETFs makes some sense, something comes out of the woodwork to put the bears back in business for a spell. Something to shake the confidence of the late-to-the-party buyers. Something that questions the bull case. I.E. Something bad.
Wham! Just like that, a month's worth of painstakingly slow gains evaporate within a day or two (or in this case, maybe an hour or two). Cutting to the chase, this is the movie I think we're seeing here.
Of course, I could be wrong. And yes, stocks could certainly march merrily higher into the New Year and beyond on the vaccine news. However, I think it is important to remember at times like these that the stock market is not a one-way street. And pullbacks/corrections happen - all the time.
So, my plan is to (a) enjoy the current slow grind higher and (b) be prepared for the next bump in the road.
The State of the Trend Indicators
The Trend Board is completely green. Advantage Bulls.
(Click on image to enlarge)
About The Trend Board Indicators: The models/indicators on the Trend Board are designed to determine the overall technical health of the current stock market trend in terms of the short- and intermediate-term time frames.
My Take on the State of the Charts...
This remains a tale of two tapes as the S&P 500 looks to have broken out of the top end of the recent trading range and is now grinding higher. As long as the index doesn't dip back into the range, the bulls should retain possession of the ball.
S&P 500 - Daily
(Click on image to enlarge)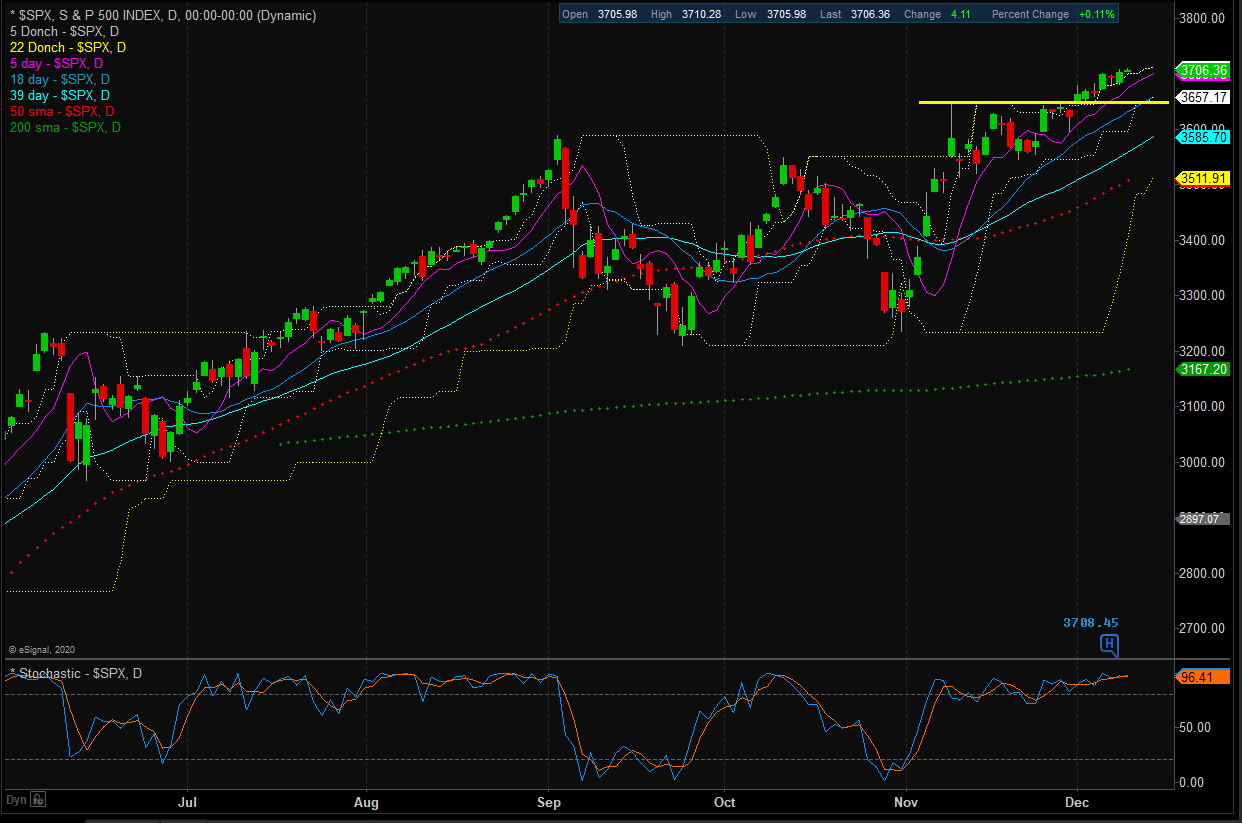 However, the Russell 2000 ETF (IWM), which is considered a proxy for the action in the small-cap space, presents a different picture. Instead of worrying about the validity of the breakout, the IWM has been movin' on up at an impressive (and record-breaking) clip. A few weeks ago, I suggested the early breakout of the range here was likely a "tell" for the broader market. So far anyway, this appears to have been the case.
The opinions and forecasts expressed herein are those of Mr. David Moenning and may not actually come to pass. Mr. Moenning's opinions and viewpoints regarding the future of the markets should ...
more