E

Nordstrom - Is There Any Upside Left?
Introduction
Departmental Stores has been one of the strongest performers in recent times as the economy began to reopen coupled with better than expected footfall. After hitting the bottom in April, Several players like Macy's M, Gap GPS, and Kohl's KSS jumped to the tune of 20-40% in the last month, significantly outperforming the benchmarks with S&P 500 growing 9% while Nasdaq added 10% to its gains in the corresponding time. While several of the retailers jumped in high double digits, the fortunes were different for different companies with JWN being almost flat growing a meager 2%, in the same period. In continuing the coverage within the departmental store space, we further evaluate Nordstrom's failure in benefitting from broader sector gains, investment thesis, its moat, and sustainability in the post-pandemic world.
(Click on image to enlarge)
Data by YCharts
Q1 Results Scanner
Nordstrom reported a predictable revenue decline of 40% in the quarter in-line with most of the other retailers. The surprising factor was, despite e-commerce growth formed a larger portion of the growth for other players in general, JWN posted a tepid 5% growth in its digital sales which represents the retailer's greater reliance on store-based sales. The retailer's digital sales grew 7% in Q1 2019 which decelerated further even though the company saw increasing consumer traffic and conversion, in part due to lower ASP.
(Click on image to enlarge)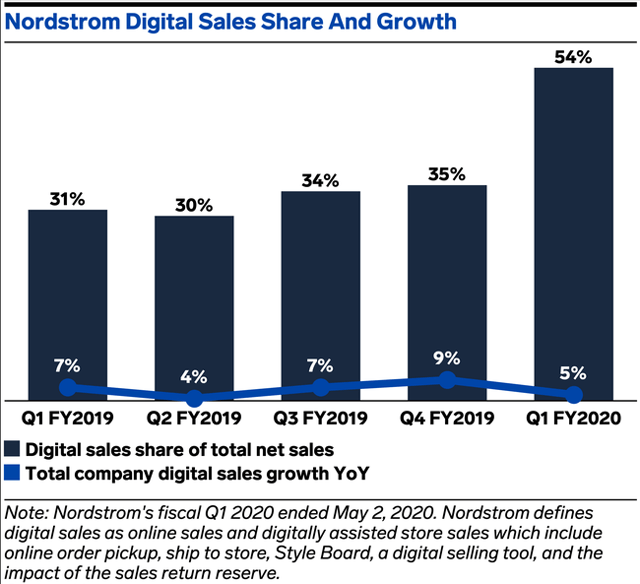 Source: BusinessInsider, Company filings.
Gross margins declined to 11% from 34% in the previous period majorly on the back of permanent markdowns, including a higher reserve adjustment of around $75 million. It decreased receipts by 30% in Q1, including reductions by 80% in April and May while it was able to fulfill its online orders through its in-store inventories. Also, it did not share any color on the traction that the business is getting in the stores already opened, however, our analysis suggests the footfalls are encouraging, in-line with other retailers.