Nio Day 2020: EV Maker Shows Off ET7 Sedan, New Power Swap Station, 150kWh Battery Pack, ADaaS, And More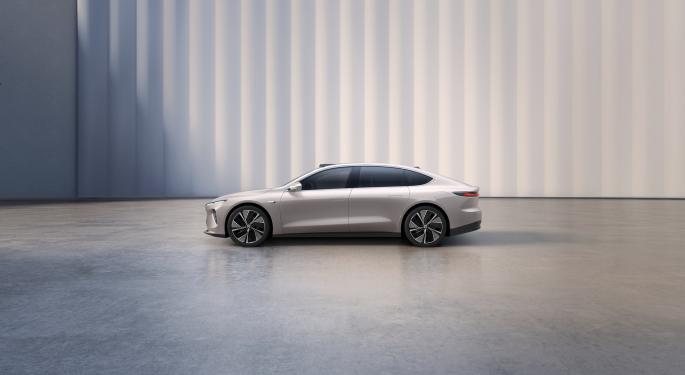 The Nio ET7 sedan. Photo courtesy Nio.
Nio Inc. – ADR (NIO) kicked off its Nio Day 2020 event in Chengdu late Saturday local time amid much fanfare. The event was attended by scores of users and Nio fans from across China, and was livestreamed. The annual event is usually held in December, but this year was held in January for unspecified reasons.
In line with reports in the run-up to the event, the company unveiled its first-ever sedan, the Nio Power Swap Station 2.0 and the 150-kilowatt-hour battery pack.
Curtains Raised On The All-New ET7 Sedan
Nio's first-ever sedan, named ET7, was launched with a tagline "Ready For Tomorrow" by the company's founder, Chairman, and CEO, William Li. Li described the car as another evolution of Nio's design DNA and a break from convention.
03:02:06
ET7 boasts what Li says is the first UWB digital key, and has soft-closing doors and frameless windows. The car is 5,098 millimeters long, 1,505 millimeters high, and 1,987 millimeters wide. It has a wheelbase of 3,060 millimeters.
The interior is designed with a "second living room" concept. The car comes with Nio's in-vehicle artificial intelligence, NOMI, which provides infotainment and navigation functions. It has a 12.8-inch AMOLED central display and uses a third-generation Qualcomm Snapdragon (QCOM) automotive cockpit platform.
Some of the other features underlined by Li included dual beam LED headlights, double dash daylight running lights, integrated X-bar, 3-dimensional crystal-light heartbeat tail light, laminated all-glass roof that insulates against 99.9% of UV rays, and microline headliner.
Autonomous Driving
The ET7's Navigate On Pilot comes with NAD, or Nio Autonomous Driving, featuring the Aquila Nio Super Sensing System with ultra-long-range, high resolution LiDAR. It has an 8 megapixel camera to assist in autonomous driving, and Adam Nio, the company's mass produced mobile computing platform. Adam has four NVIDIA Corporation (NVDA) Orin SoCs and boasts 1,016 TOPS in computing power.
© 2021 Benzinga.com. Benzinga does not provide investment advice. All rights reserved.