New Oriental Education: Strong Growth, Rising Profitability, And Attractive Valuation
New Oriental has also built a systemized operating process driving big increases in operational efficiencies, and the company is getting more leverage on the selling, marketing, and G&A expenses. Importantly, revenue growth is accelerating versus recent quarters as New Oriental keeps gaining market share versus smaller players in the market.
The company is making big investments in its purely online subsidiary Koolearn.com, and these investments will have a negative impact on margins over the middle term. But even considering this factor, management is expecting widening profit margins in the next two quarters and even through 2021.
With revenue growing rapidly, a consistent increase in profit margins could provide a double boost to earnings in the future, since New Oriental could benefit from both growing revenue and a larger share of revenue being retained as earnings over the middle term.
Attractive Valuation
The table below shows the average revenue estimate for the company over the next 5 fiscal years, the year over year expected growth rate in revenue and the price to sales ratio implied by those numbers.
For the fiscal year ending in May of 2021, New Oriental is expected to generate revenue growth of almost 28%, and the stock would be trading at a very reasonable forward price to sales ratio of 4.4 based on current market prices. This is hardly excessive for a business with abundant growth prospects.
(Click on image to enlarge)
Source: Seeking Alpha
Importantly, New Oriental has delivered revenue figures above analysts' expectations in each of the past 16 quarters in a row. If past history is any valid guide for the future, it shouldn't be much of a surprise to see New Oriental beating expectations in the years ahead too.
In such a scenario, if revenues are going to be higher than currently expected, the stock would be even cheaper than what current valuation ratios are implying.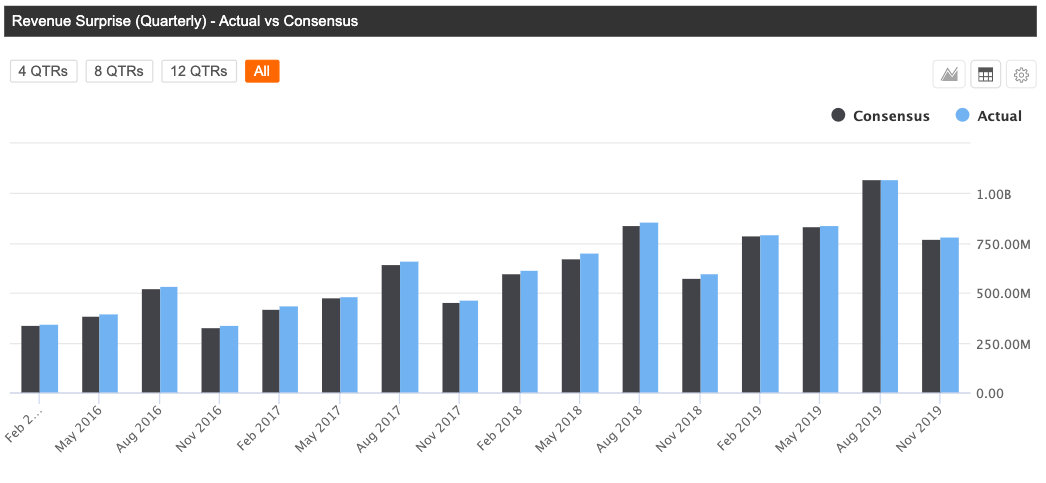 Source: Seeking Alpha
Based on free cash flow estimates for fiscal 2020 and fiscal 2021, New Oriental is trading at a forward price to free cash flow ratios of 21 and 16, which sounds more than attractive for such a strong business.
Disclosure: I/we have no positions in any stocks mentioned, but may initiate a long position in EDU over the next 72 hours.
Disclaimer: I wrote this article myself, and it expresses my own ...
more