New Oriental Education: Strong Growth, Rising Profitability, And Attractive Valuation
New Oriental Education (EDU) is one of the leading players in private educational services in China. Education plays a central role in the Chinese culture, and the company is benefiting from strong demand tailwinds in the years ahead.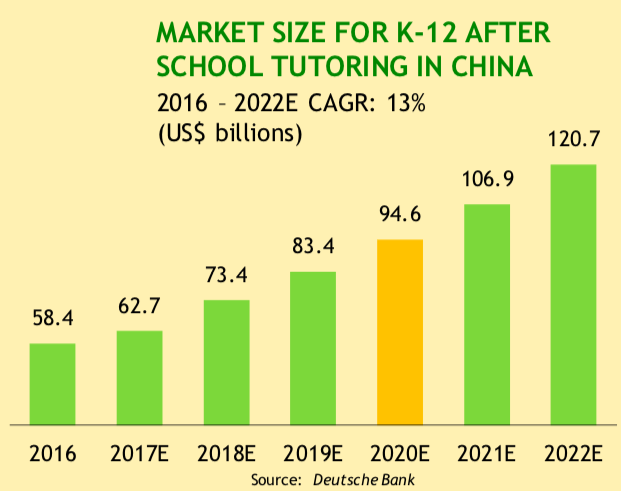 Source: New Oriental Education with data from Deutsche Bank
Competitor Tal Education (TAL) has been growing at a faster rate in recent years, and it has a stronger focus on K-12 after school tutoring services. But New Oriental is more diversified into different segments, and it has a slightly bigger revenue base, with $3.5 billion in revenue for New Oriental versus $3.2 billion in revenue for Tal over the past 12 months.
Market leadership and scale are major sources of competitive advantage for New Oriental. Brand recognition, reputation, and geographical coverage attract students in different categories, and the company has the resources to bring in the most talented professors and also to create industry-leading content and online capabilities.
By leveraging these advantages, New Oriental has been able to deliver outstanding revenue growth in the long term, both via organic revenue increases and through acquisitions.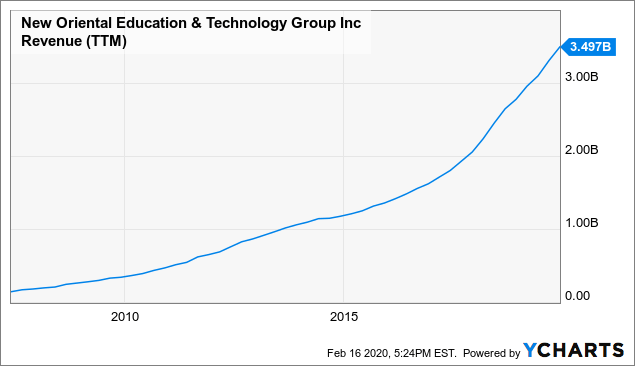 Data by YCharts
There is no slowdown at sight looking at the most recent earnings report.
Total net revenue increased by 31.5% to US$785.2 million for the second quarter of the fiscal year 2020.
Total student enrollments increased by 63.3% year-over-year to approximately 3,789,200. This higher-than-normal increase in student enrollments is primarily due to the division of the autumn semester into two parts, meaning that the student enrollments are reported separately and fall into separate quarters.
Non-GAAP operating margin rose by an impressive 720 basis points.
Non-GAAP earnings per share came in at $0.34 beating expectations by $0.13 per share.
Management has identified several main drivers behind the big increase in profitability last quarter. The new facilities built in the last two fiscal years are being ramped up more efficiently than before, and higher utilization of the facilities provides better leverage in classroom rental and related operating expenses.
Disclosure: I/we have no positions in any stocks mentioned, but may initiate a long position in EDU over the next 72 hours.
Disclaimer: I wrote this article myself, and it expresses my own ...
more