Netflix Is Now A Free Cash Flow Story: Analysts React To Q4 Earnings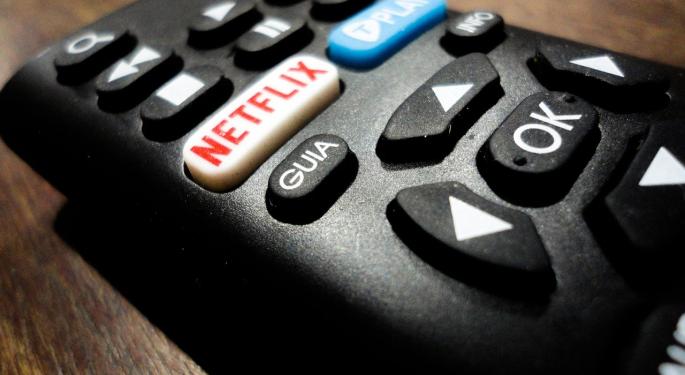 Netflix, Inc. NFLX shares jumped more than 14% on Wednesday morning after the company reported better-than-expected subscriber growth in the fourth quarter and indicated it could launch a share buyback program.
Netflix reported $1.19 in adjusted fourth-quarter EPS, missing consensus analyst expectations of $1.39. However, the company's $6.64 billion in revenue was slightly ahead of analyst estimates of $6.62 billion and represented 21.3% year-over-year growth.
Perhaps the biggest bullish catalyst for Netflix investors was the company's subscriber growth. Netflix reported 8.5 million global paid net subscriber additions, far surpassing Wall Street's 6.47 million estimate. Netflix's total paid subscribers also surpassed 200 million for the first time.
Finally, Netflix CFO Spencer Neumann said the company could implement a share buyback program in the near future "if we have excess cash".
Cash Flow Landmark: Morgan Stanley analyst Benjamin Swinburne said Netflix hitting the free cash flow-neutral landmark will significantly reduce investing risk and strengthen the company's competitive position.
"After a debt-funded business model shifting from licensed to original programming over the past five years, Netflix has scaled to a self-funded and now a highly FCF generative business," Swinburne wrote in a note.
KeyBanc analyst Justin Patterson said dynamics in the media space have taken an ironic twist, with "Netflix now a FCF story" and traditional media struggling with cash flow headwinds.
"This creates a profile of high-teens revenue and 40%+ EPS growth profile through 2022E before controlling for accretion from share repurchases," Patterson wrote.
Bank of America analyst Nat Schindler said Netflix's numbers demonstrate the company's strengthening long-term position.
"We see Netflix ability to continue to grow despite the added competition, live sports, and a significant 1H pull-forward as an indication they are strengthening their value prop to consumers and see a long runway to continue to increase market share from linear TV and believe they are in a strong position to continue price increases in 2021," Schindler wrote.
© 2021 Benzinga.com. Benzinga does not provide investment advice. All rights reserved.