Netflix Implodes After Huge Subscriber Miss, Dismal Guidance
Of course, it had to give some possible upside:
We anticipate paid membership growth will re-accelerate in the second half of 2021 as we ramp into a very strong back half slate with the return of big hits like Sex Education, The Witcher, La Casa de Papel (aka Money Heist), and You, as well as an exciting array of original films including the finale to The Kissing Booth trilogy and large scale, star-driven features like Red Notice (starring Gal Gadot, Dwayne Johnson and Ryan Reynolds) and Don't Look Up (with an all-star cast including Leonardo DiCaprio, Jennifer Lawrence, Cate Blanchett, Timothée Chalamet, and Meryl Streep). We'll also have our most comprehensive offering to date of local language titles including Too Hot to Handle for Brazil and Mexico
There was some good news in NFLX cash flow, which reversed last quarter's plunge and rose $692 million, up from $162MM a year ago. NFLX notes that "for full-year 2021 free cash flow to be approximately break-even" and adds that as discussed last quarter, NFLX believes it is "very close to being sustainably FCF positive and that we no longer have a need to raise external financing to fund our day-to-day operations." We'll see if at least that promise pans out.
In other news, during the quarter, NFLX repaid its 5.375% February 1, 2021 bond ($500 million principal) out of balance sheet cash, reducing our total gross debt balance to $15.7 billion as of March 31, 2021; the company intends to maintain $10-$15 billion of gross debt.
But knowing well that the market would puke on its dismal earnings, NFLX resorted to the nuclear option, and announced that it would launch a $5BN stock buyback:
Our board has approved a program to repurchase up to $5 billion of our common stock beginning in 2021 with no fixed expiration date. We expect our buyback program will begin this quarter.
The stock, which has a 1.4% Nasdaq weighting is crashing after hours, down as much as 10% to $480 and last trading just around $492.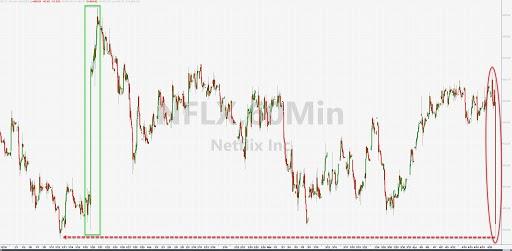 Disclaimer: Copyright ©2009-2021 ZeroHedge.com/ABC Media, LTD; All Rights Reserved. Zero Hedge is intended for Mature Audiences. Familiarize yourself with our legal and use policies every time ...
more