NDX Futures Made An Overnight High
ZeroHedge warns, "The Buffett Yardstick, or total market capitalization of the U.S. equity market relative to the overall size of the economy, now stands at a gaudy 270%.
For reference, at the peak of the Dotcom Mania, this measure only reached 188% so we are now over 40% more expensive than the most expensive stock market peak in history! Another way to think about this is to understand that, at today's valuation, the stock market would need to fall 30% overnight in order to match the peak of what is widely considered the greatest bubble in modern history.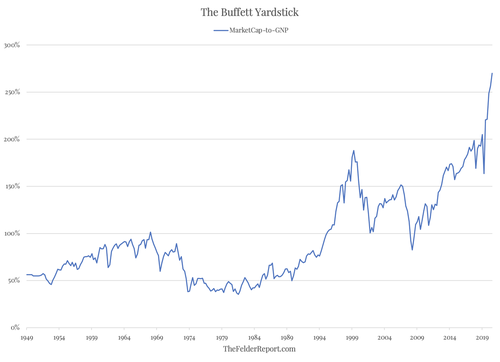 And not only is the current stock market bubble that much bigger than the previous record, it is also far broader. The median price-to-sales ratio of S&P 500 Index components is now almost 75% higher than it was at the peak of the Dotcom Mania just over 20 years ago. In other words, unlike that previous bubble which was confined to just a subset, the current bubble encompasses a much greater proportion of the overall stock market."