NDX Futures Are Consolidating Beneath Yesterday's High
7:20 am
Good Morning!
NDX futures are consolidating beneath yesterday's high, within a range of 13804.38 to 13860.38. It appears to be in an irregular correction that may require yet another probe higher. A decline beneath the 50-day Moving Average at 13568.88 would negate that move higher. However, NDX has yet another potential period of strength on Friday that may not be shared with the SPX. That strikingly corresponds with a potential period of weakness in the TNX, which ends over the weekend.
ZeroHedge observes, "Several assets are working on the range break out, although in slow motion. US 10 year at 1.51% is a new "thing". We have not seen yields close here or lower since early March. Note the 100 day slightly lower at the big 1.5% level.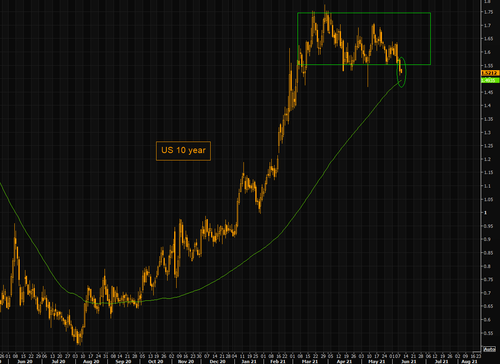 Source; Refinitiv
With yields down, the obvious question is whether or not NASDAQ will start to catch more solid bids. Note the most recent short-term divergence between yields and NASDAQ."
The Shanghai Composite appears to be due for a Master Cycle high early next week as well, which also corresponds closely with a possible high in the NDX and a potential low in the TNX. Should it go higher, the target appears to be the Cycle Top resistance at 3655.15.
ZeroHedge reports, "Update 10:00 pm ET: moments after reporting a red hot PPI which was the highest since Lehman, China effectively launched price controls, with China's economic planning agency vowing to increase the supply of key consumer goods to stabilize prices, according to a statement on NDRC website on a national video meeting Tuesday.
*CHINA VOWS TO CONTROL CORN, WHEAT, PORK PRICES AFTER PPI SURGE
*CHINA TO KEEP PRICES OF GOODS LINKED TO LIVELIHOOD STABLE: NDRC"
SPX futures are consolidating in a narrow range between 4222.62 and 4232.12. The correction of the May 12 decline appears to be complete. This Friday's open interest in the options market shows net puts outpace calls at 4200.00 by 2800 contracts, while calls outpace puts at 4225.00 (by 2700 net calls) to 4250.00 with over 10,000 net call contracts. Max pain lies in the 4200.00 to 4225.00 range. All of this is in a period of strength that ends on the weekend.