Morgan Stanley Reports Record Earnings, Stock Slides On Surprising $911MM Archegos Loss
Bank earnings season concluded as usual with Morgan Stanley reporting record earnings that smashed on the top and bottom line, but as with other banks the stock dropped for two reasons: i) MS was, naturally, priced to perfection and ii) it reported an unexpected $911 million loss tied to the collapse of Archegos which marred an otherwise pristine quarter.
First, the big picture:
Q1 EPS $2.19, Exp. 1.70 and up from 1.01; tax rate was 22% up from 17.1% a year ago.
Q1 Revenue 15.7BN, above the exp. 14.09BN.

Investment Banking Revenue: 2.61bln (exp. 2.01bln)
Wealth Management Revenue: 5.96bln (exp. 5.72bln) "brought in flows of 10bln"

Net Interest Income (NII): 2.03bln (exp. 1.51bln)
CET1 Ratio: 16.8% (exp. 17.48%)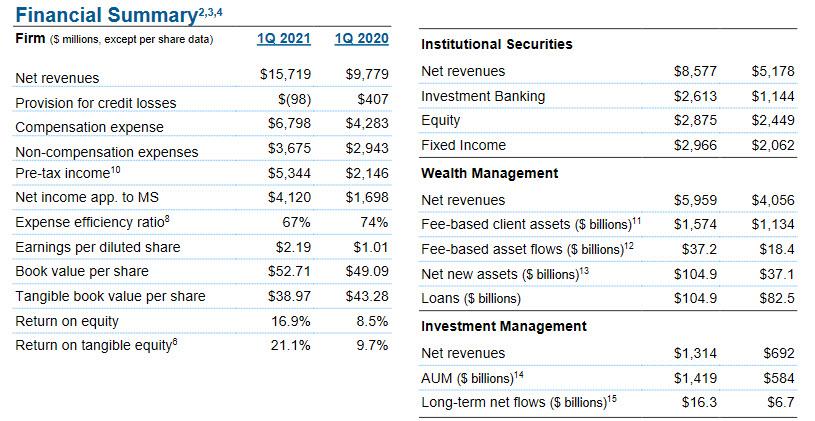 The bank also reminded investors that it had resumed its share buyback program in 1Q of 2021, and repurchased $2.1BN outstanding stock.
As with Goldman and JPM, equities revenue reflected "notable strength in derivatives, driven by continued client engagement and elevated volumes," the bank said, but also included a "loss of $644 million related to a credit event for a single prime brokerage client, and $267 million of subsequent trading losses through the end of the quarter related to the same event."
Archegos aside, the company beat every expectation:
FICC revenue of $2.97 billion rose 44% and smashed an estimate of $2.19 billion.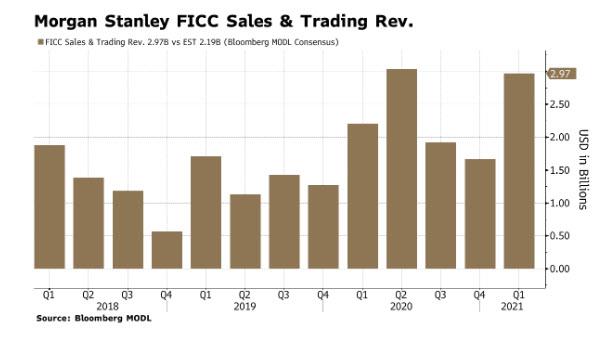 Investment banking revenue of $2.61 billion in fees also beats a forecast of $2.01 billion and wealth management revenue of $5.96 billion exceeded an estimate of $5.71 billion. Digging into investment banking, the bank reported equity underwriting revenue of $1.502BN, far higher than the $933 million analysts were expecting, and again reflects the unprecedented SPAC issuance craze.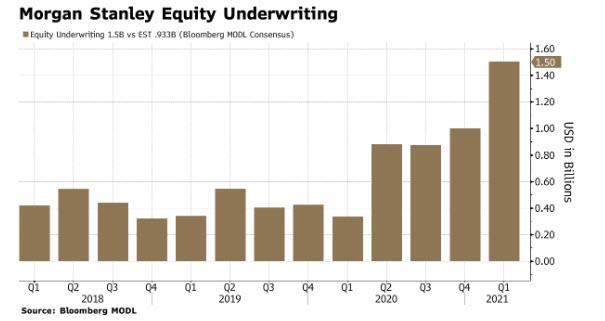 The bank's debt underwriters also topped estimates -- bringing in revenue of $631 million in the quarter, and that's better than the $496 million analysts in a Bloomberg survey were expecting. The firm's revenues were helped by higher non-investment-grade bond and loan issuances. The bank also says market conditions were "favorable" due to improved credit spreads.
Disclaimer: Copyright ©2009-2021 ZeroHedge.com/ABC Media, LTD; All Rights Reserved. Zero Hedge is intended for Mature Audiences. Familiarize yourself with our legal and use policies every time ...
more