Morgan Stanley Market Cap Surpasses Goldman After Solid Quarterly Results
Morgan Stanley capped the big bank quarterly earnings reports this morning when it announced revenues and earnings that both topped expectations as the firm posted a smaller trading drop than analysts expected and a surprise jump in wealth-management fees.
The bank reported Q1 EPS of $1.33, higher than the $1.17 estimate thanks to a 16.5% tax rate, as revenues once again surpassed $10 billion, or $10.29BN, also higher than the $9.93BN expected if a 7% drop from last year's record quarter. Net income for the first quarter fell to $2.43 billion, from $2.67 billion, or $1.45, a year ago, even as asset-management revenue rose 12% to $804 million.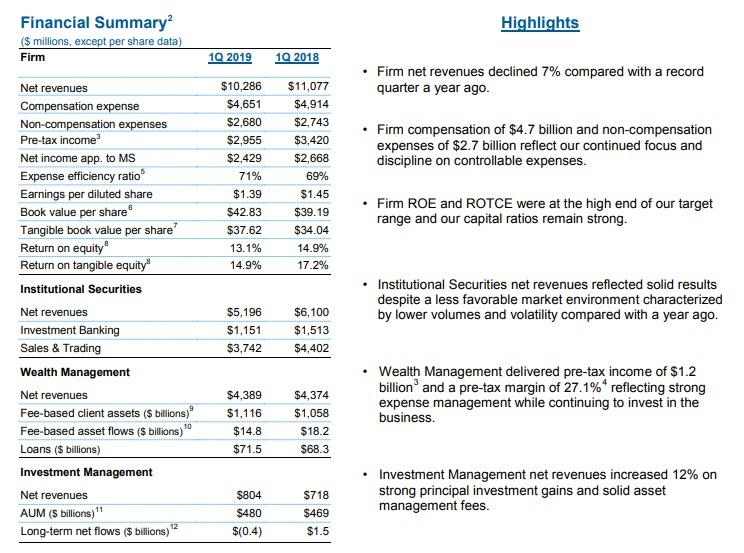 Similar to its peers, bond-trading revenue fell 9%, a smaller drop than at rival Goldman Sachs and less than the 15% slump analysts had estimated, as FICC sales and trading printed at $1.71BN, above the $1.59BN expected.
Less strong were IB and equity sales and trading revenues, both of which missed expectations: equity sales and trading revenue rose $2.02 billion, below the $2.07 billion estimates, while investment banking revenues of $1.24 billion were also below the $1.27 billion expected. The 24% drop in investment banking was led by declines in equity and debt underwriting; it comes after the bank ended last year as the top banker for initial public offerings and has a key role in the listings of companies such as Uber which should help support the division into this year.
Offsetting these declines, revenue at the firm's wealth and asset management units rose to $4.39 billion while other competitors saw declines. Those results helped Morgan Stanley counter the biggest slump in investment-banking fees on Wall Street. Margins at the wealth-management unit were 27 percent. According to Bloomberg, the bank is targeting them to be as high as 28 percent through 2019.
On the expense side, the bank took less draconian measures than its biggest competitor Goldman, as Q1 compensation expenses of $4.65 billion came in higher than the estimated $4.37 billion, with Q1 non-compensation expenses printing at $2.68 billion.