More Pain Ahead For Cincinnati Financial
The problem for most claimants is that the debate about physical damage may be a moot point due to the second stumbling block: specific virus exclusions baked into policies. Claimants are finding that insurance companies are one step ahead. Buried in the hundreds of pages of their commercial property policies is a half-page exclusion that imagined just the type of crisis that is impacting America today.
(Click on image to enlarge)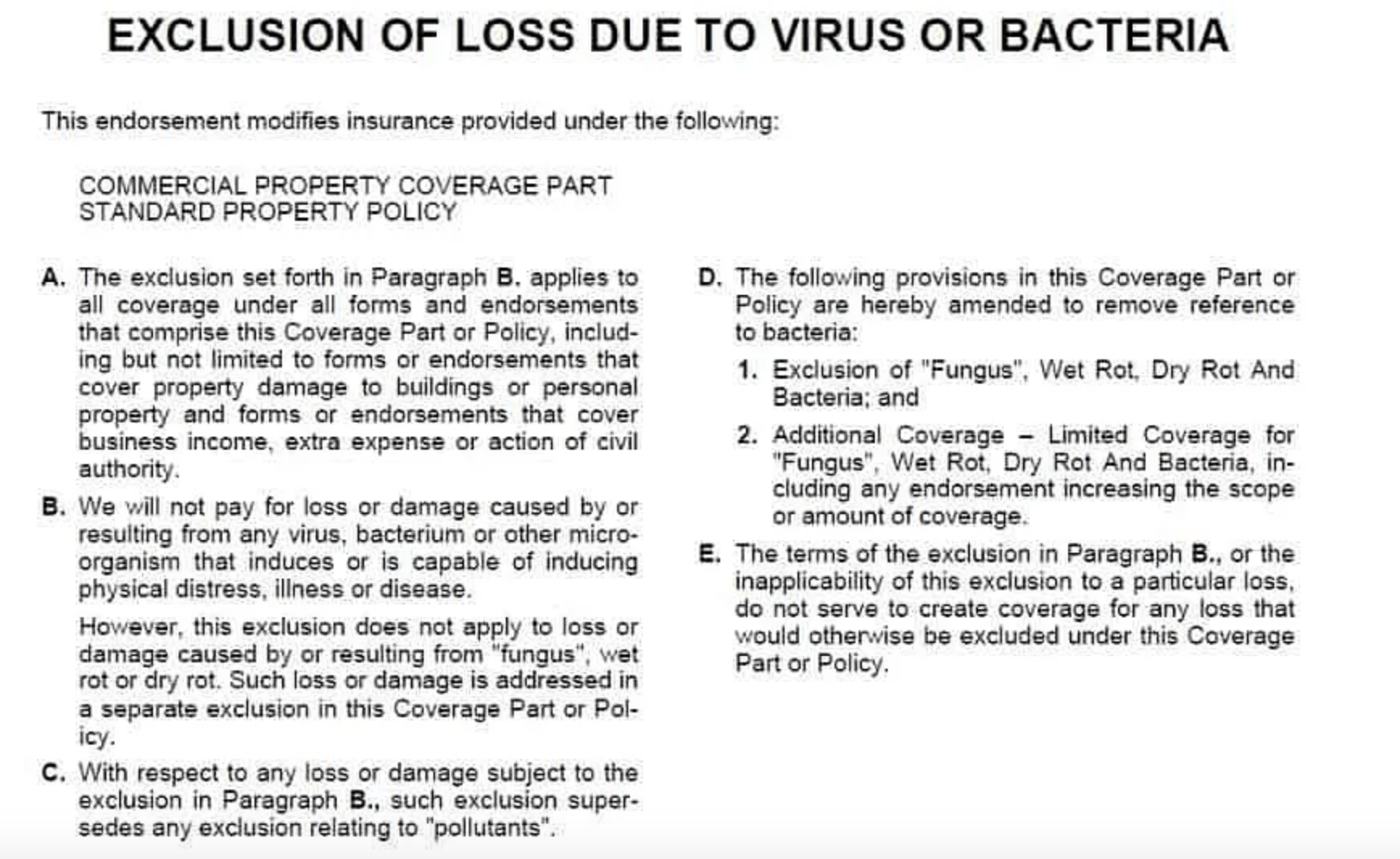 Standard ISO virus
.
Our take? Absent unprecedented government intervention into the private contract space, insurance companies with specific virus exclusions in their BI coverage won't be forced to pay. This is a view shared in recent days by Standard & Poor's. In recent prepared remarks, Tracy Dolin, S&P Global Ratings analyst noted that "[w]e are taking the initial standpoint that these political efforts to retroactively change policy language will not materialize."
But what happens when there is no "policy language" related to a virus? We believe that litigation will be an uphill battle with claimants arguing, as in the Oceana Grill suit, that since they will need to clean and sanitize their buildings, the virus did, in fact, cause physical damage.
President Trump on virus exclusions
If Cincinnati is looking for sympathy, they can forget turning to President Trump. In a press briefing in early April, President Trump specifically noted that insurance companies without virus exclusions should pay up.
Referring to policies that do not have specific virus exclusions, Trump noted that, "I'm very good at reading language," Trump said. "I did very well in these subjects, OK? I don't see pandemic mentioned. Now, in some cases it is; it's an exclusion. But in a lot of cases, I don't see it. I don't see a reference that they don't want to pay up."
Trump went on to note that in the case of these policies without specific virus exclusions, "I would like to see the insurance companies pay if they need to pay if it's fair. And they know what's fair. And I know what's fair. I can tell you really quickly."
Disclosure: I am/we are short CINF.
Disclaimer: I wrote this article myself, and it expresses my own opinions. I am not receiving compensation for it. I have no business relationship ...
more