More Long Ideas That Look Good Post Earnings
After affirming our long thesis on three of our "See Through the Dip" stocks last week, we're reiterating six more Long Ideas post recent earnings reports.
Target Corporation (TGT:$173/share), Universal Health Services, Inc. (UHS: $129/share), MasTec Inc. (MTZ: $89/share), HollyFrontier Corp (HFC: $37/share), Standard Motor Products (SMP: $43/share), and Allison Transmission Inc. (ALSN: $39/share) are this week's Long Ideas.
These Long Ideas Still Have Room to Run
We leverage more reliable fundamental data, proven in The Journal of Financial Economics[1], with qualitative research to highlight firms whose stocks present excellent risk/reward. Figure 1 shows the performance of the six Long Ideas featured in this report.
Figure 1: Long Idea Performance: From Date of Publication Through 3/2/2021

Sources: New Constructs, LLC
*Measured from the date of publication of each respective original report. Dates can be seen in each company section below.
Target Is Great Long-Term Value
We made Target a Long Idea in April 2015 and reiterated it in June 2019. Here's what we learned from the 4Q20 earnings report and why we still like this stock.
What's Working: For years, bears believed Target's brick-and-mortar presence would hinder its ability to gain market share. However, Target leverages its physical stores as the centerpiece of its omni-channel distribution strategy, and it is working. Target grew revenue by 19% year-over-year (YoY) in 2020, which was driven by a strong e-commerce business that adapted to customers' new shopping habits during COVID-19.
Target's digital sales grew 145% year-over-year (YoY) in 2020 and now account for 18% of its total revenue. Target's share of the U.S. retail market grew from 1.4% in 2019 to 1.9% in 2020.
Target's physical store presence also allows it to partner with major brands and to build stores-within-stores to enhance customers' experience with popular brands. Target's partners, which include Apple (AAPL), Disney (DIS), Ulta Beauty (ULTA) and Levi Strauss (LEVI), invest in marketing their offerings within Target to create a better shopping experience than Target employees can provide on their own. These partnerships not only enhance Target's customers' experience, they also broaden its offerings.
What's Not Working: Despite impressive revenue growth, Target still lost ground to Amazon (AMZN), which saw its revenue jump by 38% in 2020.
Furthermore, judging by the market reaction, investors aren't enthused about Target's plans to invest $4 billion (vs. $2.7 billion in 2020) annually over the next few years to continue to fuel its brick-and-mortar and e-commerce efforts. Shares fell by 7% on the day of the announcement.
However, we believe Target's increased investment in its business is good news for investors over the long term, especially given Target's track record of creating shareholder value. Target's executive compensation is linked to return on invested capital (ROIC), the key driver of shareholder value creation. By incentivizing executives to improve ROIC, managements' interests are aligned with investors' interests. The firm's focus on ROIC has led to ROIC rising from 7% in 2014 to 14% over the trailing-twelve-months (TTM) while its economic earnings grew from $1.3 billion to $3.6 billion over the same time.
Current Price Leaves Lots of Upside: Below we use our reverse discounted cash flow (DCF) model to analyze the implied value of the stock based on conservative assumptions about Target's future growth in cash flows.
In this scenario, we assume:
Target maintains its TTM NOPAT margin of 5.5% in 2020. NOPAT margin falls to 4.7% (five-year average vs. 5.5% TTM) in 2021 and each year thereafter and
revenue grows by 0.5% compounded annually from 2021-2022 (in line with consensus revenue growth estimates) and
revenue grows by 3.5% compounded annually thereafter, which equals the average annual global GDP growth rate since 1961.
In this scenario, Target's net operating profit after-tax (NOPAT) grows by just 4% compounded annually over the next decade and the stock is worth $254/share today – a 47% upside to the current price. See the math behind this reverse DCF scenario. For reference, Target grew NOPAT by 6% compounded annually from 2014 to 2019.
Figure 2: Target's Historical and Implied NOPAT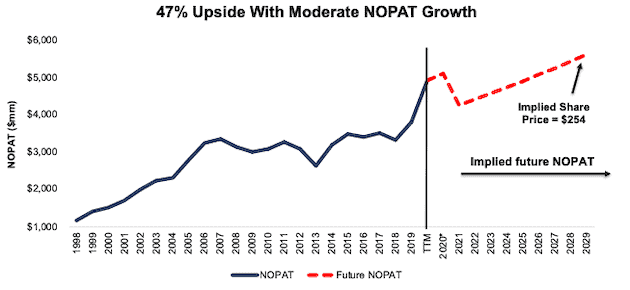 Sources: New Constructs, LLC and company filings
Universal Health Services Still Looks Cheap
Universal Health Services is one of our "See Through the Dip" stocks from July 2020. Here's what we learned from 4Q20 earnings and why the stock still provides quality risk/reward.
What's Working: While the COVID-19 pandemic led to declines in higher-margin elective surgeries, Universal Health Services grew revenue by 2% YoY and improved its ROIC from 9.9% in 2019 to 10.2% in 2020.
Even in a difficult operating environment, the firm grew its Acute Care segment revenue from $6.2 billion in 2019 to $6.3 billion in 2020. Acute Care accounts for 55% of the firm's 2020 revenue, up from 54% in 2019. The firm leverages its expertise in behavioral care to partner with existing acute care facilities to open new behavioral health facilities. Universal Health Services is growing its joint venture portfolio and recently announced two more partnerships with Southeast Health and MercyOne.
Disclosure: David Trainer, Kyle Guske II, and Matt Shuler receive no compensation to write about any specific stock, style, or theme.