More Downward GDP Revisions Are Expected
The impact of a 1-2-3 punch of hurricanes this summer has exposed the economic realities we are facing — that the underlying fundamentals of the economy are demonstrating that things are not very strong. GDP could certainly pick up in the fourth quarter as new money is injected into the economy as part of the rebuilding effort from the storms. In the short-term, however, we're seeing downward revisions in expectations for 3Q GDP emerge, starting last week with the Atlanta Fed and the New York Fed. Keep reading for all the details, and the impact this could have on the Fed going forward.
Last week was quite a set of days. We had President Trump's address to the United Nations General Assembly, the outcome of the Fed's latest monetary policy meeting and then yet another hurricane barrel down, this time leaving destruction in its path as Puerto Rico took a direct hit. We spoke about these items on last week's Cocktail Investing Podcast and shared a number of data points for our 17 investing themes as well.
And while we might still be recovering from last week, and the weekend that was, the upcoming few days will close the books on September as well as the 3Q 2017. While some are still marveling at where Summer 2017 went, we will have just three months until the end of 2017, with another earnings season to contend with and several holidays before we get there.
On the Economic Front
Friday's IHS Markit Flash US Composite PMI reading showed the expected hurricane-induced dip in activity for the month. Candidly, as we get the full boatload of September data in the coming weeks, odds are we will see more modifications to 3Q 2017 GDP expectations in the downward direction. We've started to see some such revisions, but let's remember both the Atlanta Fed and New York Fed only adjust their GDP models as new economic data becomes available. Currently, those two have revised their respective forecasts for the current quarter lower to 2.2% from 3.3% exiting August, and 1.56% from 2.17% three weeks ago, respectively. As the data rolls in, we'll be mindful on what it means for the market and its current valuation at roughly 19x expected 2017 earnings.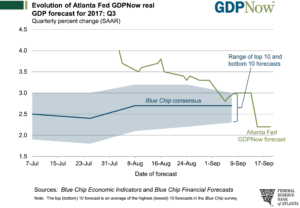 In the coming days, we'll get some additional housing color in the August New Home Sales report and more data on the business spending in the August Durable Orders report. Later in the week, we will receive the third estimate of 2Q 2017 GDP, and we're not expecting any major revisions from the prior reading of 3.0%.