MLPs: Five Years On, Cheaper Than Ever
The end of August was the five year anniversary of the peak in MLPs. Had it not been for the distraction caused last week by a more compelling story (see Blackstone and Tallgrass Further Discredit the MLP Model), we would have already noted this milestone.
The Alerian MLP index, albeit much changed and diminished since August 2014, remains 38% lower including dividends. We won't repeat the reasons, which are familiar to regular readers (see It's the Distributions, Stupid!).
Pipeline stocks have certainly labored under some poor management decisions (see Kinder Morgan: Still Paying for Broken Promises) and self-dealing (see Why Energy Transfer Can't Get Respect). However the Blackstone take-private offer for Tallgrass (TGE) plays out, this unfortunate episode has confirmed the wariness of many investors for the weak governance of publicly traded partnerships.
But the broad energy sector also languishes, now representing less than 4.5% of the S&P 500. The S&P energy ETF (XLE) is 42% off its highs of June 2014. The Van Eck oil services ETF (OIH) is down a staggering 83%. The sustained weakness in the pipeline sector has to be considered against this backdrop. Even Exxon Mobil (XOM) is 25% off its April 2014 high, and yields over 5%. For the first time in the history of the S&P 500, XOM is not in the top ten.
Energy investors are keenly aware that, although their sector bottomed in February 2016 along with crude oil, the broader equity market has risen over 50% from that low point. The S&P 500 is within 2% of new all-time highs.
Holders of midstream energy infrastructure stocks are clearly not momentum investors. But they have identified relative value – the chart below highlights that relative P/Es compared with the S&P 500 favor MLPs more clearly than during the financial crisis, or even the February 2016 low which capped an even bigger drop than in 2008-9.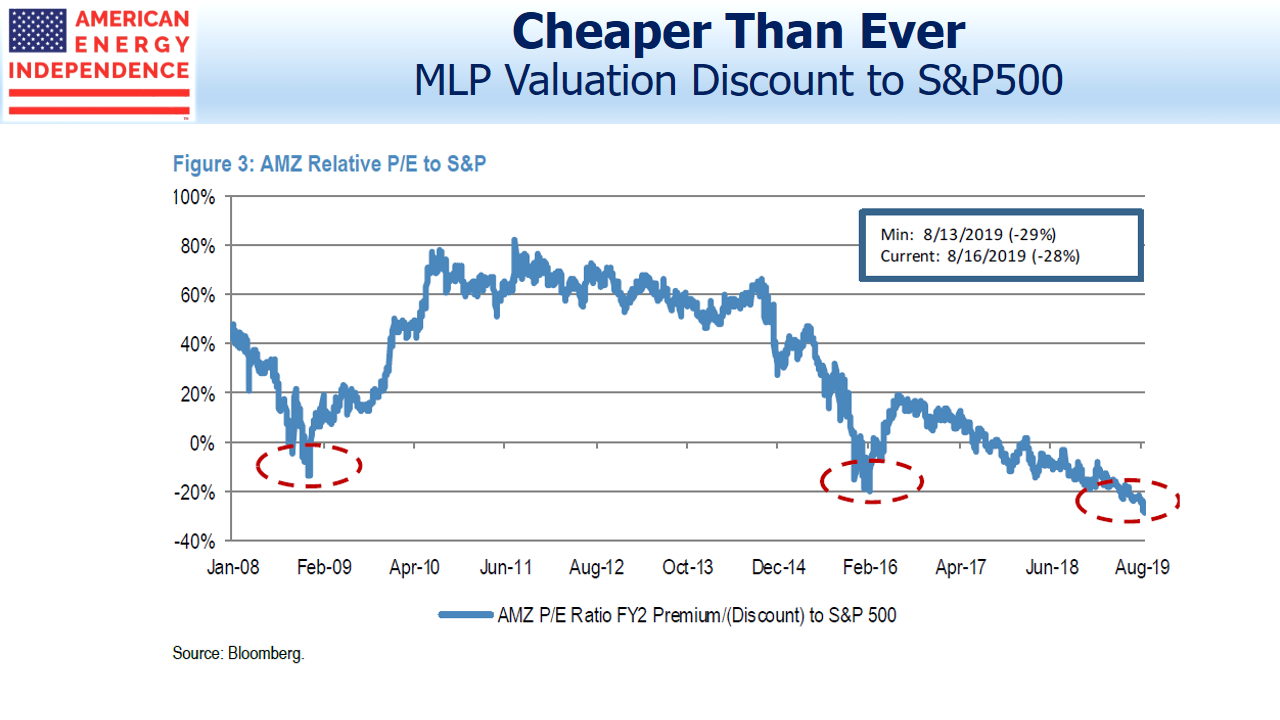 P/Es rarely even figure in evaluations of MLPs, since earnings are often distorted by depreciation charges that don't reflect the actual change in value of owned assets. So it's notable that even using earnings numbers that are usually lower than Distributable Cash Flow (DCF), the sector is cheap.
Disclosure:
We are invested in TGE.
The information provided is for informational purposes only and investors should determine for themselves whether a particular service or product ...
more