MLP Closed End Funds – Masters Of Value Destruction
When MLP investors cast around for characters to blame for the past few years of underwhelming equity returns, management teams are the obvious target. Like their upstream clients, midstream businesses embraced the endless volume growth of the Shale Revolution with sharply increased growth capex. By 2018 they'd heard the message from investors that stability trumps growth and begun to pull back. This year, as a result of continued capex frugality, free cash flow will double. Given the pandemic, which even led briefly to negative crude prices in April, this result is extraordinary and only now beginning to register with investors.
(Click on image to enlarge)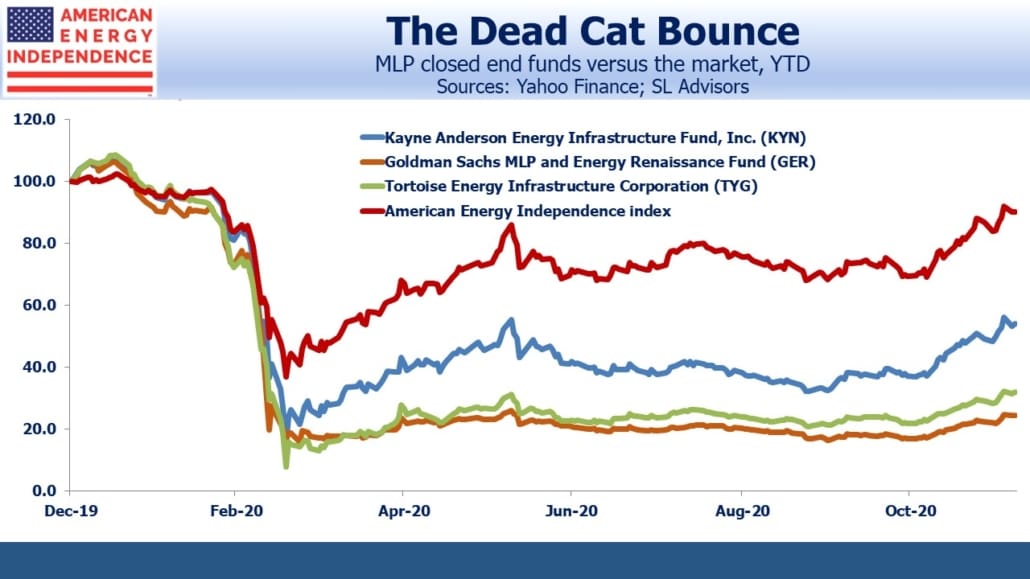 Although recent equity returns for pipelines have been sparkling, few will soon forget the trauma of March when wholly indiscriminate selling drove prices to unfathomable depths. Management teams are responsible for operating performance and while this drives equity returns over the long run, in between quarterly earnings reports stock prices gyrate on investor opinion, guesses and hunches. March was miserable for everyone involved in midstream, but chief among the villains of that sector-wide margin call are the managers of MLP Closed End Funds (CEFs).
These vehicles have been around for years, holding MLPs in an inefficient, tax-paying c-corp structure. They were Wall Street's first attempt at separating the K-1 from the sought-after retail buyer. The corporate tax liability, an expensive haircut to returns, was obscured by the tax-deductible interest expense on leverage.
MLPs were once considered a fixed income substitute. Borrowing money to buy bonds in a closed end fund structure can be defensible if the underlying assets are very stable. MLPs long ago lost the advantageous reputation of "income-seeking substitute" as their rush for Shale Revolution growth stressed balance sheets and led to higher volatility. Nonetheless, MLP CEFs retained their leveraged model, even though most were forced into distressed sales during the 2014-16 slump when depressed MLP values tripped risk limits.