E

Market Briefing For Thursday, Jan. 24
Shifts in production 'and' investment going forward, may inextricably be moving away from China; almost regardless of how 'good' a 'trade deal' may be negotiated between Beijing and Washington. There is rising awareness, I think years beyond our early warnings about 'Intellectual Property theft', that may restrain not so much production alone; but enhance investment in 'free' world areas. And there's the brewing revelations about 'Confucius Centers' at major universities, that may have censored 'academic free speech' on all topics the Chinese Government didn't like, like Taiwan or the Dali Lama. As it appears less so from the $4 million grant to Stanford; more so to the Univ. of Maryland, which is refusing essentially an audit of their Center's funding.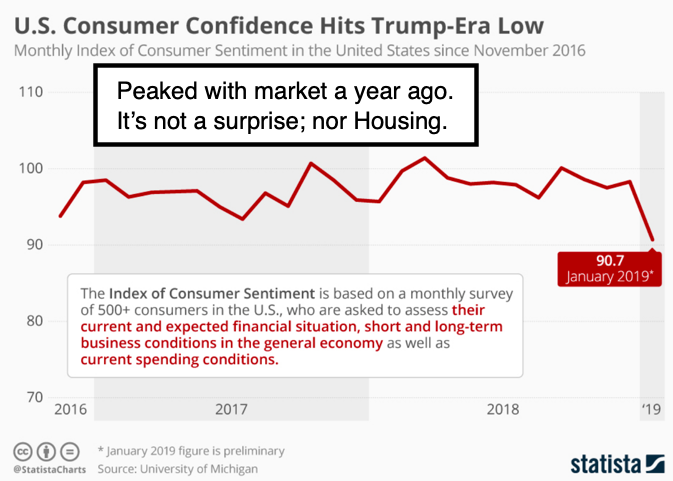 I actually suspect President Xi of China is aware of this 'influence education' issue; as well as the slowing economy (hence more unemployed coming as they trim the military's size); and need to stop corruption. He recognized this indirectly with his unprecedented introspective speech yesterday I noted, as it was about 'shortcomings' and corruption 'within' the Chinese Communist Party. That was what I'll call a top-down sort of 'drain the swamp' message, with (as sayings go lately) Chinese characteristics.
As they 'drain the rice paddies', the winds from the Gobi Desert have tended to blow towards India for production; and towards the EU (even Israel) with respect to technology development. (Ironically, even China has tried making technology investments in Israel, and has been rebuffed in some cases.) I'm thinking one reason (besides security issues such as with their 'ports', might relate to concern about IP theft, and no way does the country that invented the Quad-core chip for Intel, or much of today's cyber-security technology, in any way want this compromised by invited the dragon into their lair. Is this all paranoia? Some of it is over-the-top and that's what Trump and Xi must together get a handle on, before it gets out-of-control.