Low Profitability Puts XPO Logistics At A Disadvantage
Stop us if you've heard this scenario before: soaring debt, significant shareholder dilution, multiple large acquisitions, and executives paid for stock price performance, all of which results in massive revenue growth with no profits. No we're not talking about Valeant (VRX) or Perrigo (PRGO), or any prior Danger Zone stocks. We're talking about XPO Logistics (XPO: $27/share), which looks like another roll up scheme, for the Danger Zone this week.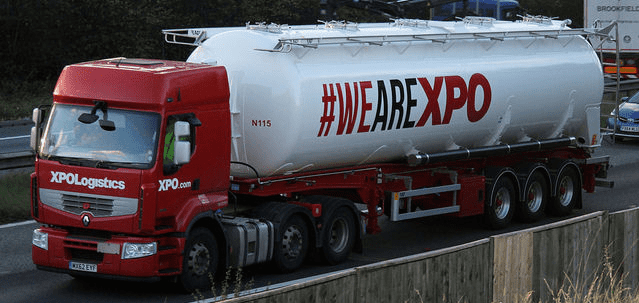 Acquisitions Boost Revenue While Killing Profits and Diluting Investors
Over the past few years, XPO Logistics has engaged in aggressive acquisitions that have fueled revenue growth upwards of 100% compounded annually over the past five years. These acquisitions, specifically the buyouts of Norbert Dentressangle and of Con-way Freight, which totaled over $6.5 billion, were done with little regard to the economic/cash flow repercussions. As can be seen in Figure 1, XPO Logistics' economic earnings, the true cash flows of business, have declined from $1 million in 2010 to -$310 million in 2015. See the reconciliation of XPO Logistics' GAAP net income to economic earnings here.
Figure 1: Revenue Doesn't Equate To Economic Earnings
(Click on image to enlarge)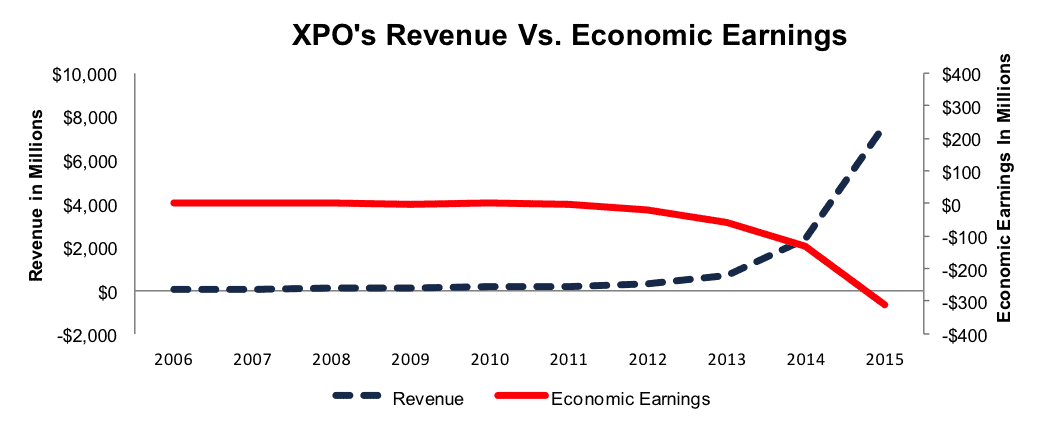 Sources: New Constructs, LLC and company filings
Aside from negative economic earnings, XPO's return on invested capital (ROIC) has fallen from 12% in 2010 to a bottom quintile 2% over the last twelve months.
Major Dilution: Acquisitions Funded At Expense Of Investors
Adding to the issues, XPO has greatly increased debt and diluted shareholders over this time frame. 2010-2015, XPO's debt grew over 290% compounded annually to $7.3 billion (238% of market cap). Its shares outstanding grew from 33 million to 110 million, or 27% compounded annually from 2010-2015. Essentially, XPO funded its acquisition-based growth at the expense of shareholders, while deriving no profits.
Shareholder Destructive Acquisitions Driven By Misaligned Executive Compensation
We blame XPO's executive compensation plan for the acquisitions that dilute shareholders, grow debt and lose money. Apart from cash bonuses, which are tied to meeting "adjusted EBITDA" goals, over 80% of the CEO's pay and over 50% of other executives' pay is awarded via long-term incentive restricted stock units (RSUs).
Vesting of these RSU's is tied directly to stock price and "adjusted cash earnings per share." Essentially, management has been incentivized to grow XPO's stock price at almost any cost. $7.5 million in 2015 RSUs vest if XPO trades above $60/share for 20 consecutive days prior to April 2, 2018, or above $86/share for 20 consecutive days prior to September 2, 2020, and the company can meet the cash EPS goals. In 2016, executives were granted $38 million in RSU's for the 2016-2019 period that vest based upon the achievement of target "adjusted cash flow per share" metrics. Executives were given the green light for on an acquisition spree and as the high-low fallacy shows, executives can increase EPS through value destructive acquisitions, all while profiting for themselves. One other important note about XPO's executive compensation plan, it's strictly focused on non-GAAP metrics, an issue we detail below.
You Cannot Pay Your Debtors With Non-GAAP Earnings
Investors only following XPO management's presentations might believe the company is a high-flying success, especially when it comes to "adjusted EBITDA," the company's go-to metric to present its operations. When looking through this noise, the underlying economics of the business reveal a much worse situation per Figure 1. Here are the expenses XPO removes to calculate its non-GAAP metrics, including adjusted EBITDA and adjusted net income:
Disclosure: New Construct Staff receive no compensation to write about any specific stock, sector or theme.