Lost In The Fire And Fury – Promising Earnings From ShotSpotter
As North Korean President Kim Jung Un and U.S. President Donald Trump shot barbs and threats at each other – threats which included Trump's promises of fire and fury and perhaps more – ShotSpotter (SSTI), a gunfire detection and location technology company, reported earnings. I think the promising results were lost in the crossfire and the resulting market swoon. SSTI's first earnings results as a publicly traded company suggest this is a unique opportunity to invest into the early stages of what could be a tremendous growth trajectory.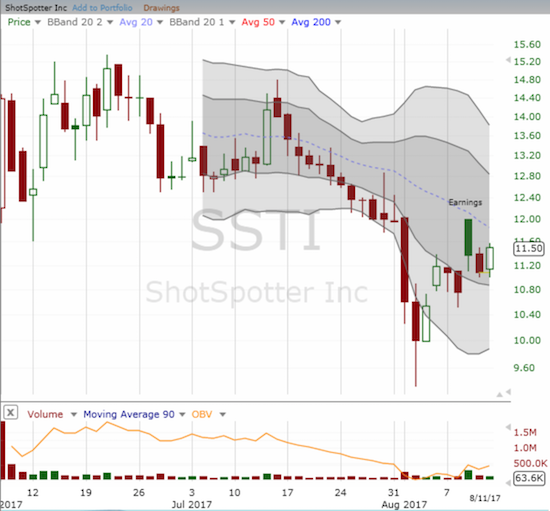 ShotSpotter experienced a strong post-earnings gap up, but the downtrending 20-day moving average (DMA) provided too much resistance. The stock still trades just above its IPO price of $11.
Source: FreeStockCharts.com
From a technical standpoint, SSTI's chart shows that the sellers currently hold the advantage over buyers. SSTI was not able to make much progress after its first day of trading. Once the stock hit a new intra-day all-time low on August 1st, sellers rushed in and pushed the stock as low as $9.33 before the current rebound. A post-earnings gap up was met by fresh sellers who quickly filled the gap. Once SSTI can manage a new post-earnings high, I will assume interest has returned. However, I am not going to wait and will start accumulating shares as soon as the coming week of trading.
SSTI is a very small company. Based in tiny Newark, CA, SSTI has a market cap of $110M and about 70 full-time employees. The company's IPO on June 7, 2017 raised $32.2M with 3.2 shares issued. The vast majority (95%) of its revenue, $5.8M in the second quarter of 2017, comes from its public safety solution which helps police departments detect, identify, locate, and respond quickly to gunfire. The revenue from its security solutions sold to six university campuses so far is minimal (the University of Alabama just went live). An innovative integration in General Electric's (GE) smart city CityIQ platform has generated $250K so far and depends on GE's success with its partnership with AT&T (T). The following promotional video below explains how the San Francisco police department is using SSTI technology to reduce gun-related homicides in the city.