Livongo And Teladoc: Undisputed Leadership In The Future Of Healthcare
Shares of both Livongo (Nasda:LVGO) and Teladoc (NYSE:TDOC) suffered big declines after the merger announcement on August 5. But now the market seems to be understanding the rationale behind the deal much better, and the two stocks have substantially recovered from their post-announcement drawdowns.
It is easy to see why investors may have initially reacted in a negative way to this deal. However, on a forward-looking basis, Livongo and Teladoc offer the opportunity to invest in an undisputed growth leader with enormous potential to benefit from the digital transformation in the healthcare sector over the years ahead.
The Reasons For Disappointment
I can perfectly understand why investors would initially feel disappointed with the merger. In fact, and in the interest of full disclosure, I sold half of my Livongo position as the merger was announced on August 5.
The deal changes the potential return and reward equation in Livongo, and the stock was the largest position in my portfolio by a wide margin at the time of the announcement after generating a 500% gain in a few months.
I generally let my winners run, but when the position is so large and the company makes such a transformative move, it makes sense to take some chips off the table and reassess the investment with more information.
However, I also maintained a sizeable position in Livongo stock because I was frankly intrigued by the upside potential of the two companies together. Upon further analysis, I am feeling increasingly confident about the future of Livongo and Teladoc after the merger.
The market seems to be having a similar perspective since Livongo and Teladoc have recovered a lot of lost ground in recent days.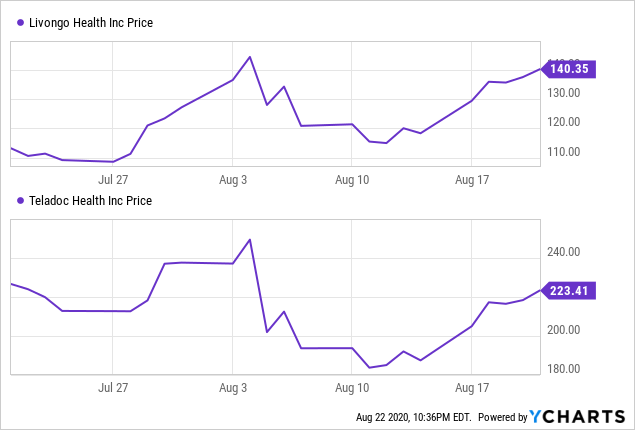 Data by YCharts
The initial disappointment among investors in the two companies is completely understandable. If you owned Livongo stock, you were holding a disruptive growth stock that was growing revenue at more than 100% year over year and was still relatively small, with enormous room for sustained growth.
Disclosure: I am/we are long LVGO.
Disclaimer: I wrote this article myself, and it expresses my own opinions. I am not receiving compensation for it. I have no business relationship with ...
more