Live To Fight Another Day
Summary
Value Line Arithmetic Index at 8% technical sell signal.
Negative 4.71 Weighted Alpha.
10.70% off last high.
I monitor the market and let it tell me where it is headed.
I do not try to predict anything. I do not have price targets. I do not have holding periods. I do not believe in backtesting. I have a very simple rule: Don't spit into the wind!
I always use stop losses: ALWAYS! The 100-day moving average for individual stocks and the 200 day moving averages for ETF's or mutual funds. I reset my stop losses every Friday.
I closely follow the Weighted Alpha of everything in my portfolio.
I do not buy back in until at least 50% of the stocks are trading above their 50 day moving averages.
The Value Line Arithmetic Index is a NON-weighted average of 1,700 stocks - this covers about 95% of the entire US equity capitalization. Look where it is today:
(Click on image to enlarge)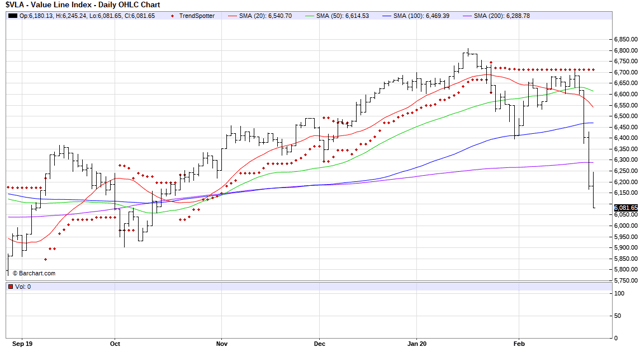 I also watch Barchart's Market Performance Indicators that tells me what percentage of the stocks over $2 are trading above their daily moving averages for various time periods. Today the results are:
$BCMM Negative 3.27 ( Barchart Market Momentum Index)
5.25% 5 DMA
7.40% 20 DMA
13.57% 50 DMA
23.29% 100 DMA
28.74% 150 DMA
31.23% 200 DMA
Believe in your predetermined, rational and disciplined stop losses. Let the stop losses accumulate some cash for you. Keep your powder dry until the Value Line Arithmetic Index is trading above its 50-day moving average and the Barchart Market Momentum Index is positive with 50% of the stock trading above their 50 day moving average.
Don't spit into the wind! Live to fight another day!