Lessons From A "Safe" Dividend Stock
You can figure out free-cash-flow yield for any public company. Take free cash flow — published by all companies in their annual and quarterly financials — and divide that number by the company's total enterprise value.
What you get is a figure that shows you what percentage of your stock's value is created by the cash generated by its business operations.
In other words, if a company reported $200 million in free cash flow last year, and its market value was, say $3 billion, then it had a free-cash-flow yield of 6.7%.
Picture of Financial Health?
The specific number isn't so important in my view as the overall trend as you calculate the same cash-flow yield for past years as well.
In the case of GE, it shows us a company whose collection of businesses was generating smaller and smaller amounts of cash each year, relative to GE's debt-swelled total enterprise value of $214 billion.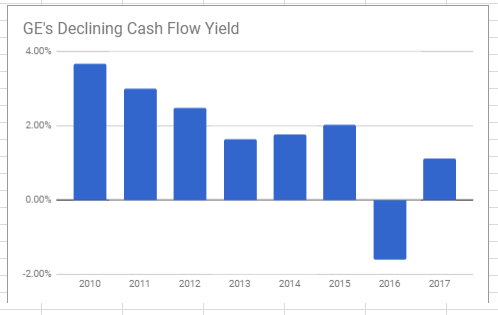 (Source: Capital IQ data)
As you can see from the chart, it was only a matter of time before GE needed to cut its dividend. It couldn't afford to keep returning that much cash back to its shareholders every year.
Sooner or later, the company would face a situation where it needed those funds more urgently to reinvest into its own operations (with the goal of reinvigorating its growth) rather than shuffle the money out to its shareholders each quarter.
And where does that leave income investors, especially those with an eye on long-term wealth-building through DRIP-style investing?
It leaves them hanging over a cliff, waiting to see whether GE's turnaround plan works, and with the unlikely hope for a potential restoration of a larger dividend at some future date.
They learned the hard way that paying a dividend and sustaining that dividend while continuing to raise it for years at a time — are two different things.