KB Home Reverses Historic Post-Earnings Gain And Delivers A Buying Opportunity
KB Home (KBH) reported earnings on January 10, 2018. The reaction the next day was outright startling. The stock gapped up and did not stop rallying until it finished with a 12.3% gain and a new 10 1/2 year high.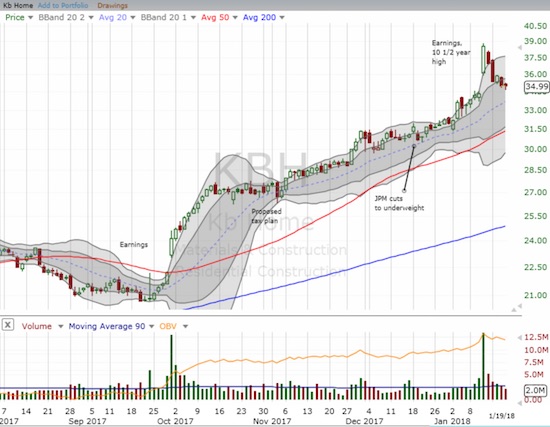 Source: FreeStockCharts.com
Post-earnings, KB Home (KBH) gapped up to a 10 1/2 year high with a 12.3% gain. Sellers regained control after that and have almost closed the entire gap. I was so taken aback that I checked on the historical data to get some context. It turns out KBH's post-earnings gain was its fourth largest since at least 1997. Moreover, the 42.4% gain between earnings – since the close after September, 2017 earnings to the close before January, 2018 earnings – was the sixth largest since at least 1997. Combined, KBH's one quarter earnings performance was truly historic and one of the strongest in recent years.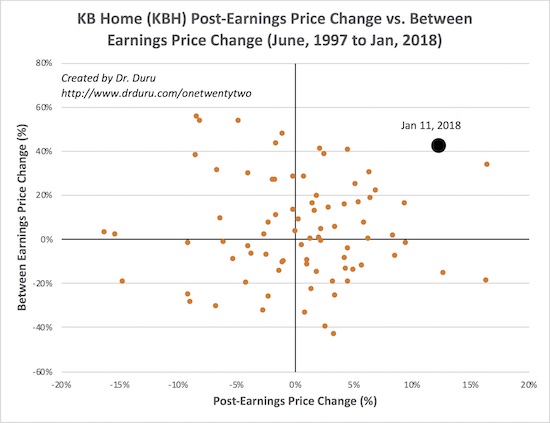 Source for price data: Yahoo Finance, Source for earnings dates: Briefing.com
Download underlying spreadsheet here.
The post-earnings price action for KB Home (KBH) was historic.
Given this historic response, I thought KBH delivered historic and outstanding earnings performance. While indeed strong, KBH basically hit its guidance with a little room to spare. The market's reaction was like a late recognition that KBH would hit its goals. Management provided strong but reasonably incremental forward guidance for the coming year. In other words, KBH has returned to the good graces of investors as a consistent earnings performer. This time around, the trading action looks like a buyer's panic in the face of this acknowledged reality. Yet, the buying panic exhausted itself in the short-term as sellers and profit-takers were able to gain control and nearly reverse the entire post-earnings gain.
I used this pullback as an opportunity to make a fresh trade on KBH. I assumed that the monster performance in the past quarter effectively soaked up much of the short-term buying interest in KBH. So, I purchased a calendar spread going short February calls and long April calls. I expect the February calls to expire worthless and thus pay for a good portion of the longer-term play that I want to make going into the Spring selling season and to make a play on the seasonally strong period for home builders in general. If KBH sells off past the gap and retests the uptrending support at its 20-day moving average (DMA), I may start adding shares to the trade with an upside price target around the last high.
Disclosure: long KBH calendar spread
Follow Dr. Duru's commentary on financial markets via more