Kate Spade Is An Interesting Turnaround Story, But Tapestry Is Now A Sitting Duck
In this case, there is one common denominator: luxury brands. The conglomerate is supposed to identify, acquire, and manage a set of luxury brands. However, brands have different ethos and identities, and the conglomerate management team has to be sensitive to that fact. You can't just copy the Coach's recipe and apply it blindly to Kate Spade. Those are very different brands appealing to different consumers at different price points.
Therefore, what can a conglomerate offer to the brands? We see three main things: dilute eCommerce platform costs, offer scale in underdeveloped countries, and cross-sell items in retail stores.
Tapestry, like most other luxury retailers, is trying to fend off Amazon's threat to their retail business. And, the best way is to have an in-house eCommerce platform. Developing a good online experience, and efficient logistics, for eCommerce is hard and costs money. If you have an extra two or three brands, you can dilute those costs through economies of scale.
Scaling international operations is another opportunity. For instance, Kate Spade has most of its market exposure in the US. However, for Coach, China has been the growth driver for the last couple of years. Using Coach's network to help Kate Spade developing a footprint in the Chinese market will be a very interesting opportunity.
Where does Tapestry stand?
Tapestry is trying to dilute eCommerce costs while scaling Coach's international network retail knowledge to the other brands. In theory, the strategy is good enough to suggest potential long-term growth. If the experience that Coach managers have, about growing an international retail footprint, is scaled to the other brands, then, we have exciting growth potential.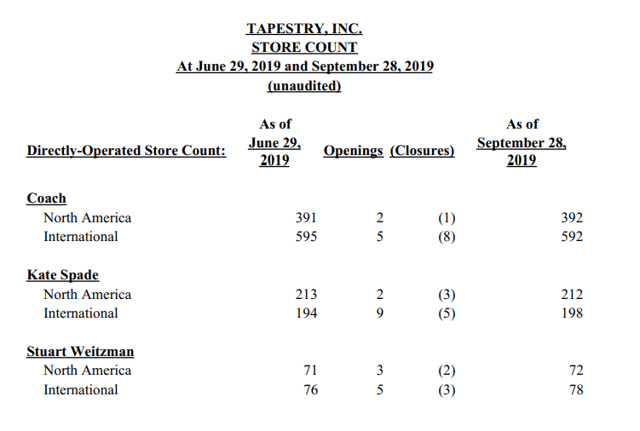 (Source: Tapestry 20Q1 8K)
Looking at the table above, we can see that Coach has roughly 1.5 international stores for each US-based store. On the same metric, Kate Spade has 0.93 international stores. There is huge potential to grow KS's international retail footprint. The same goes for Stuart Weitzman. If nothing else, that should be enough to justify the conglomerate setup.
Disclosure: I am/we are long TPR.
I wrote this article myself, and it expresses my own opinions. I am not receiving compensation for it. I have no business relationship with any company ...
more